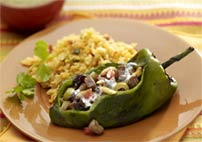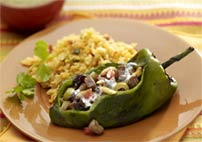 Chile Rellenos with Salsa Verde Cream Sauce
Ingredients
1 pound beef roast
2 tablespoons beef bouillon
1 tablespoon olive or vegetable oil
1 medium onion, chopped
1 clove garlic, minced
6 fresh poblano chiles
1 cup HERDEZ® Salsa Casera
1/4 cup chopped ripe olives
1/3 cup golden raisins
1/3 cup blanched slivered almonds
1 cup Herdez® Salsa Verde
1/4 cup sour cream
Directions
Place the meat in a large saucepan or stockpot. Add enough water to cover and stir in beef bouillon granules. Bring the water to a boil. Reduce heat, cover and simmer for 2 hours or until meat is tender.
Meanwhile, cut each pepper in half length wise. Remove the seeds and membranes from the peppers. In a saucepan, cook peppers in boiling water until crisp-tender, about 5 minutes, drain well and set aside.
Remove cooked meat from the pan and chop into small pieces and set aside. Discard the bouillon mixture from the pan and dry the interior. Add the oil to the same pan and heat over medium heat. Add the onion and garlic and saute until softened, about 5 minutes. Add the HERDEZ® Salsa Casera and simmer for 3-5 minutes. Return the meat to the skillet. Stir in the olives, raisins and almonds. Season the meat mixture to taste with salt. Spoon the meat filling into each of the pepper halves and place the peppers on a lightly oiled baking pan.
Bake at 400 degrees F for 10-15 minutes or until warmed through. Meanwhile, in a blender or food processor, combine the HERDEZ® Salsa Verde and sour cream. Drizzle the sauce over the prepared peppers and serve.