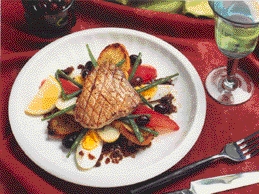 I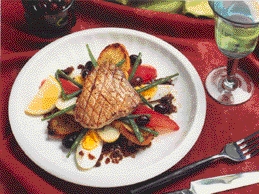 ngredients:
1 1/2lb tuna
8oz new potatoes
5oz fine green beans
10oz plum tomatoes
2oz black olives
3 shallots
1/4 pint of olive oil
100ml balsamic vinegar
1 lemon
3 hard boiled eggs
12 slices of French bread
Olive oil to cook
Method :
Trim and portion tuna. Prepare and cook new potatoes and beans and pit olives.
Blanch and de-seed tomatoes and cut into petal-shapes if desired. Dice shallots, add vinegar and cover with oil in a pan on the stove, season and allow to cook until darkened by the vinegar.
To serve: split beans and place in a bowl with the potatoes, tomatoes and hard-boiled eggs and olives. Quickly brush slices of bread
with olive oil and 'toast' on one side only.
Add to salad.
Brush tuna with oil and barbecue until pink, season with salt and lemon and
place on top of salad.
Spoon over dressing and serve.