As you may have seen,
a few R29ers put their stred cred
to the test this past season by testing out Nike FuelBands to find out how many steps they really took during Fashion Week.
Riveted by their enthusiasm for their FuelBands, we decided to test one out against two other fitness trackers — Jawbone UP and the FitBit One — to see how the experiences varied between products.
Three of our staffers tested the devices for a week and reported back on multiple factors, from how easy the devices were to set up to whether or not they felt motivated to get a move on — even how comfortable (and fashionable!) their devices were. Scroll through to check out their full reviews — it's smackdown time!

Who: Annie Tomlin, beauty director
The Contender: Jawbone UP band
"I'm not a gym person. Never have been, probably never will be. Instead of sweating it out on a treadmill, I try to be active in my day-to-day activities. Through choosing staircases over elevators and keeping a quick pace, I've convinced myself that I really don't need a gym membership. Thing is, I'd never actually measured my activity until using UP by Jawbone.
"UP packs a pedometer, a sleep tracker, and a nutrition diary all into one wristband. On its own, the wristband can't relay any information, but when connected to its iPhone app, UP is a revelation. The interface is beautiful and colorful, and after calibrating the band, I marveled at all of the things it 'knew' about me. It not only measured the number of my steps, it also showed the high and low points of my physical activity. I could see the number of calories burned while active and resting, and I was ashamed by my long sedentary periods — so I set UP to vibrate every twenty minutes, just to remind me to get moving.
"I aimed for 10,000 steps per day, which many websites recommended for better health. Living in pedestrian-friendly New York, I figured this would be easy. On my first day with UP, I logged a measly 6,139 steps. That's when the competitive instinct kicked in. I began getting off the subway one stop early, taking the long way home, jogging in place before bed to reach the goal. 'Let's go to that coffee shop you like in Soho,' I said to my boyfriend one Saturday morning. We walked from Brooklyn. 17,367 steps!
"After a week, I became step-obsessed, checking UP multiple times a day to see my progress. This was good for my body — though I generally burned more calories sitting on my ass than by walking — but notgood for my mind. Falling short of my goal felt like failure. What's more, I began to suspect that UP wasn't being completely honest with me. After an afternoon of walking around Manhattan, I barely made my goal. It didn't seem right, so I counted one hundred steps and compared them to what UP tracked. UP counted 46 steps to my 100 the first time; the second round, UP credited only 20 steps. UP, how could you?!"
"I probably just needed to re-calibrate the band, but after two weeks, I put UP away for a day…and found that I was walking just as much, but didn't need to compete against myself. UP definitely showed me that I wasn't quite as active as I'd previously thought — and now, I realize how much more active I need to be."
Jawbone UP band, $129.99, available at Jawbone.

Who: Gabriel Bell, staff writer
The Contender: Nike FuelBand
"I've been trying to get in shape for a while, but motivation is always my problem. Seeing how excited other R29ers were to make their daily goals with the FuelBand made me want to check it out. The setup — from registering to downloading the iPhone app — was a breeze. I was done and ready in a non-headache-inducing five minutes or so.
"I really can't run — I have fallen arches, etc. — so I get my exercise in with weight training, elliptical machines, and the like. Unfortunately, this is all effort that the FuelBand isn't very good at tracking. I swear, I once left the gym floor after an hour of brutal circuit training backed up with 45 minutes of hard work on the elliptical absolutely drenched in sweat, and the thing said I had burned something like 250 calories. All lies!
"The website does track some of these factors, but the iPhone app, which I used, didn't. Honestly, I don't have the time or energy to constantly visit Nike's site for this, and I was hoping for more on the iPhone app. On the plus side, despite the bracelet design being chunky and hard, the bracelet doesn't get in the way at all. Also, the visual design of it is wonderfully futuristic, and those lights — c'mon! — those lights just keep you excited. When you hit your daily goal, it's like a tiny fireworks show."
"While the FuelBand didn't track some of other fitness factors as well as I would like, such as calorie intake and sleep cycles, with its brillant design, Bluetooth connection to iPhone, and totally addictive Fuel goal system, there's a lot to love here. For runners and joggers, this thing is a bargain at $150. There are so many things the FuelBand does well — but for me, it's just not the right product."
Nike FuelBand, $149, available at Nike.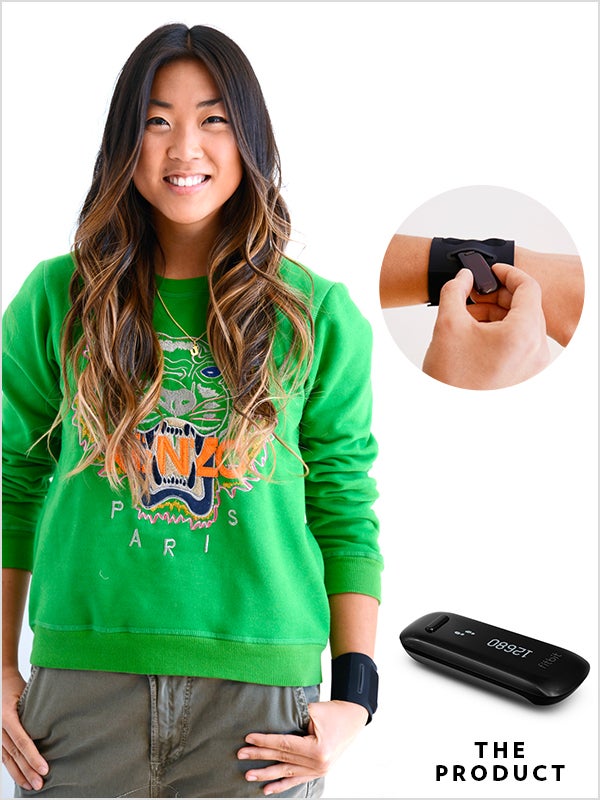 Who: Julia Anderson, associate director of brand integration
The Contender: FitBit One
"I should put out an immediate disclaimer that in the colder months, I'm probably one of the most sedentary and inactive people I know. While my lovely co-workers are jetting off to Pilates class and SoulCycle, I'm the one curled up on my couch shamelessly watching Bravo with a glass of white wine. So I was a little bit intimidated by the idea of trying out the FitBit One.
"It looked like it would be complicated to set up, but I was pleasantly surprised by how easy it was to get going — all in all, it took about five minutes on the site. Once I filled in a bit of information and synced the device, I was brought to a dashboard that allowed me to track my daily progress in one view. I didn't download the app until later in the week, but found that the online dashboard was just as simple to use as the app.
"The device came with a few sleek and stylish options, including a thick black wristband and a simple belt clip. I wore the wristband when I wanted to wear the FitBit more as a fashion accessory (I swear, I got a few compliments!) and the belt clip when I wanted to be a little more discreet. It was so lightweight that on a couple of occasions, I changed clothes and left the FitBit in a heap of laundry, only to remember several hours later. Oops.
"I'm not going to lie and say the Fitbit encouraged me to start running marathons, but it did heighten my awareness to my everyday activity. I had no idea that on any normal Thursday, I take around seven thousand steps and walk nearly three miles, in my commute and daily shuffle between meetings. Plus, on a casual Saturday stroll, I pound about five miles of pavement.
"With a price tag of $99, I can see the FitBit One being a worthwhile investment for someone who really wants to count calories, set and monitor goals, or perhaps shed a few pounds. I live more of a laid-back lifestyle, so while road testing the FitBit was fun for a week, I don't think it's something that I'd use daily in the long run."
FitBit One, $99.95, available at FitBit.
Designed by Zhang Qingyun,
Photographed by Samantha Mancuso
Click HERE to read more from Refinery29.