Unfortunate but true: Junk food tastes so right…until it feels so wrong. It's not that you can't enjoy fried chicken without shame spiraling, but it doesn't always feel great after, does it? And as guilty-pleasure enthusiasts ourselves, this bums us out to no end.
So, we tapped four top dietitians to give us their picks of the healthiest junk foods around. You know, the in-bounds diet "cheats" that don't make you feel like you've just watched a Real Housewivesmarathon with your hand in an economy-sized bag of chips. And surprisingly, nothing's off limits: From salty splurges to sour candies, alcohol to comfort foods, these tempting dishes will leave you maximally full with minimal regrets. Scroll through, then munch on.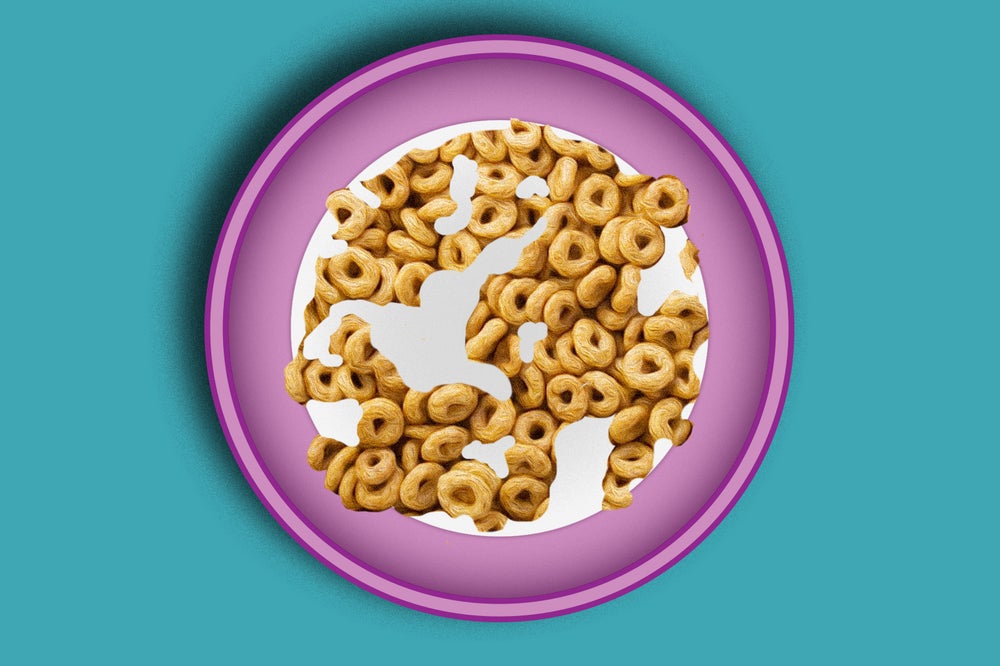 Sugary Cereals
There's no denying the satisfaction of a good sugary cereal. The best boxes are filling, satisfying, and nostalgic. But, don't let the promise of "fiber" fool you. Jared Koch, nutritionist and food critic at Clean Plates, admits, "The truth is that all cereals are processed, even the so-called healthier ones." His recommendation? Oatmeal.
"When I'm craving that sweet crunch, I'll grab a lower sugar boxed cereal. Nature's Path Heritage Flakes is non-GMO, contains just four grams of sugar per 3/4 cup serving, and has a mixture of ancient grains (kamut, barley, millet, quinoa)." Alternatively, dietitian and Konsyl spokesperson Keri Glassman suggests, "Always look for cereals with as little sugar as possible. Zero grams is best! If you simply must have a sweet cereal, I like EnviroKidz Peanut Butter Puffs. At least there's no high fructose corn syrup and other 'yuck' ingredients like dyes."

Chocolate
Hey, sometimes you just gotta go for it and get your choco fix on. When that time comes, the verdict is clear: "This one's a no brainer: dark chocolate, hands down," Nourish's nutritionist and culinary consultant, Marissa Lippert, explains. "Make it the best quality you can, make it rich and indulgent, and make it satisfying so that you get your fix quick. Three small squares of dark chocolate is only going to run you 75 calories or so at most."
Dietitian Brittany Craig agrees. "Brooklyn's Mast Brothers makes delicious varieties of dark chocolate bars," she says. "Or, for something similar to a candy bar, try Justin's Peanut Butter Cups. While the calorie and fat content is similar to that of popular store brands, this one typically contains ingredients that are less processed and are of better quality."

Sour Candy
Candy is candy; there's no getting around that. But whether you're at the movies or just in the mood for a sugar rush, it's still good to know what to grab when you just can't resist. "Avoid candies with artificial food dyes and chemicals," Glassman says. "Stick with candies such as Gin Gin's Organic Ginger candies and Yummy Earth Organic Lollipops or Sour Worms. While these are both still full of sugar, they are free of artificial flavor."
Another way around feeling the sugar shame? Lippert says to eat less. "The 'handful rule' is a good one for this category," she says. "There is no real 'lesser evil' here, as most candy is sugar, sugar, and more sugar. But, look for items that you can suck on, which are going to take longer to finish as opposed to gummy candies. If it's got to be Sour Patch Kids, go for a handful, which equates to about 100 to 120 calories."

Comfort Food
When it comes to splurges, comfort food is an absolute no-brainer. 'Cause if you're gonna take a loophole in your diet routine, you might as well do so with a bang (and by that, we mean, with pasta and fried chicken…or at least a reasonable substitute). Koch says, "I love Italian food, and grew up eating pasta, so my choice is Tinkyada brown rice pasta with grass-fed ground beef and vegetables, and Mario Batali tomato sauce, which has no sugar added."
Craving fried chicken? Glassman explains, "Applegate Farms Organic Chicken Nuggets are quite delicious; they're made using non-hydrogenated oils and antibiotic-free chicken. As for mashed potatoes, I'm all about making your own mashed cauliflower."
Craig adds a useful at-home prep tip. "Annie's Organic Whole-Wheat Shells and White Cheddar is a nice option when you are in need of a mac-and-cheese fix. The whole-wheat pasta shells provide additional fiber to keep you full longer. Making this meal at home allows you to alter the ingredients. Try less butter and add plain non-fat Greek yogurt for creaminess with less saturated fat."

Salty Splurge
A bag of chips, some microwave popcorn, pretzels — salty snacks are addictive and hard to avoid. And, if you're anything like Jared Koch, you've got a "salt tooth" instead of a "sweet tooth." He explains, "When I need to satisfy it, I look for organic, non-GMO corn chips, which I enjoy with guacamole — Garden of Eatin' makes delicious, organic sprouted blue corn chips. Though they are processed, they're not sprayed with chemicals, and they're made with better quality corn."
Lippert, however, goes for popcorn. "It's high in fiber, and you get a good-sized bowl (four cups worth) for right around 100 calories. Pop it on the stove top for a natural, old-school option, or try Newman's Own Natural Microwave Popcorn with Zero Trans Fats. A little sea salt, truffle salt, or grated parmesan and pepper, and you've got your salt fix."

Alcohol
Alcohol usually doesn't feel like a splurge, but too much wine and beer can definitely undercut an otherwise healthy day. No need for despair, though. "Alcohol can fit into a healthy diet," says Craig. "Red wine contains approximately 120 calories per serving and is packed with heart-healthy compounds such as resveratrol, which may protect the heart's blood vessels and reduce inflammation." As for beer? She suggests lighter options such as Amstel Light.
Glassman's pick? "Ty Ku makes low calorie sake, as well as citric liqueur, which is only 65 calories per serving. Voli also makes a series of reduced-calorie, light vodkas, which now even come in fun flavors such as mango coconut." Alternatively, Lippert recommends Champagne or Prosecco. Cheers!

Fast Food
We know, we know — fast food is fast food. But, that doesn't mean you're never, ever getting back together going to have it again. Remember: This is about the lesser of all evils (though they're still not your diet's BFFs). Glassman and Craig both suggest a veggie-loaded six-inch Subway turkey sandwich on whole-wheat bread, while Koch goes for Mexican. "When I'm outside of New York, I often go for Chipotle. Contrary to popular belief, they are no longer owned by McDonald's, all of their meats are hormone- and antibiotic-free, and they source a healthy percentage of their produce locally and organically." Koch's pick: a bowl or salad with chicken or beef, brown rice, guacamole, and vegetables.

Pizza
This is one of our favorite categories of all because, as the experts agree, when it comes to pizza, sometimes you just have to "fuggetaboutit!" Koch explains, "At Clean Plates, we use the '80/20 rule.' Eat clean 80% of the time and 20% of the time, give yourself a break. So, let this be your 20% splurge. Enjoy a slice and forget about it." One chain Koch likes: Naked Pizza, which offers a 10-grain, probiotic-rich crust, and meats free of hormones and antibiotics.
Lippert also says an occasional pizza party is fine. "This is all about moderation and balance," she says. "Max out at two pieces, and make them exceptionally worthwhile with the toppings you can't live without. Most importantly, start the meal off with a killer salad, which will help curb your appetite a little and get your greens in so you can enjoy every bite of that pizza."
Designed by Zhang Qingyun
Click HERE to read more from Refinery29.