This true story will make the hair stand up on the back of your neck. When Apollo was hit by lightening, all systems in the Command Module when dead. A 26-year-old Mission Control worker used his brain to resurrect an obscure fix.
When Pete Conrad, Alan Bean, and Richard Gordon and strapped themselves into the command module of Apollo 12 for the second moon landing, they could not predict the mission would fail almost immediately.
Electrical systems in the command module went dead in seconds. They were hurtling into space on a run-away-bus.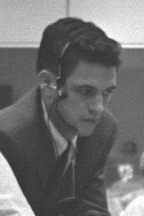 26-year old controller John Aaron, call sign EECOM, came up with the fix that baffled everyone, until it worked. "SCE to AUX" he told Apollo 12 and despite the fact everyone didn't have a clue, the Mission Controller agreed with the command.
The scene was later dramatized for the mini-series "From the Earth to the Moon".
Thanks to Ed Pottie for suggesting this great moment in space history.