This article was last updated on April 16, 2022
Canada:

Oye! Times readers Get FREE $30 to spend on Amazon, Walmart…
USA:

Oye! Times readers Get FREE $30 to spend on Amazon, Walmart…Searching for family photos on Windows 8 Metro will be a nightmare unless users switch back to Desktop Explorer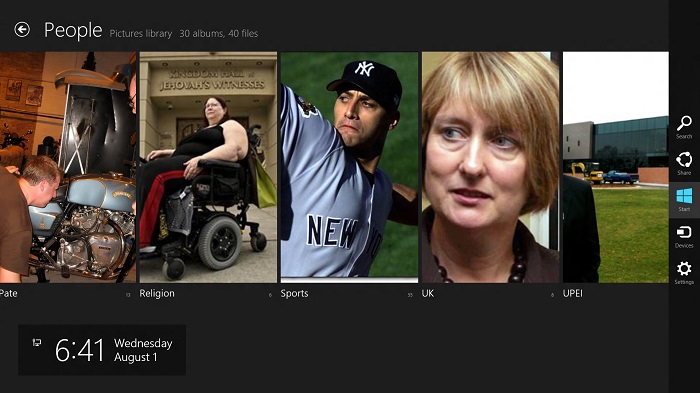 Like the Emperor who has no clothes, Windows 8 Metro has no file manager. Microsoft says the current lack of a decent Metro file manager for Windows 8 is by design.
If it is, they are trying to "dumb down" the advanced Windows 7 file manager to something worse than Apple's Finder. There is a solution that forces you back to Windows Explorer and out of Metro, which more or less defeats any advantage of Windows 8 Metro.
The Metro file manager is similar to the same frustrating function on an Apple iPad.
The File Manager is what we use to manage our files – save them, organize them and find them. Without a sophisticated file manager as part of the operating system, we would spend most of our time searching for files, as in "what did I call that picture of Aunt Harriet at last year's picnic."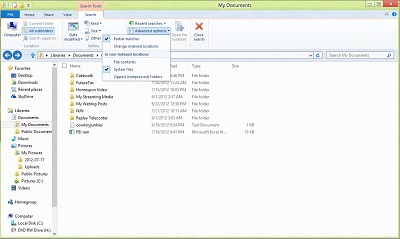 The file manager in Windows 8 Explorer can search by key word, date taken, modified, location stored, type of file, size, contents, author etc. It is similar to Windows 7 but with several improvements.
The Charms search in Windows 8 searches on words only. So a search on "Sports" turned up these photos. Not bad but there was no sort for date, size or author. To find the photo you want, you swipe the screens until it appears.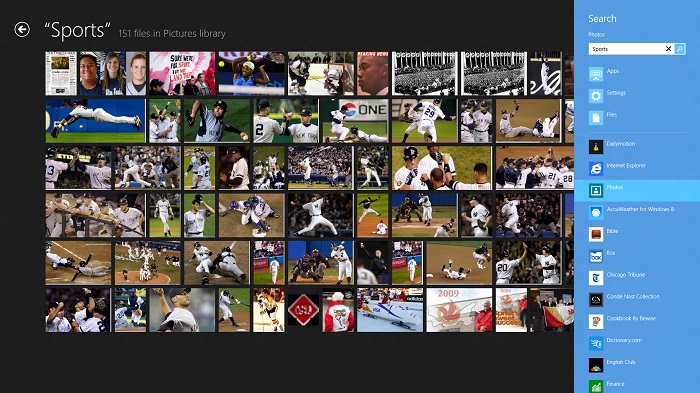 If you have thousands of photographs, letters, and emails on your computer, finding them will be like a needle in a haystack. I tried a Metro Charms Search for pictures of my grandson "Maddox". Windows Metro found 27 photos, not bad since I didn't have to tell it where to look. Most of the photos are on SkyDrive and not on this computer.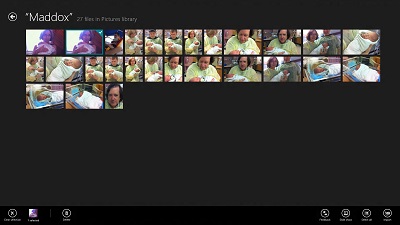 At first I thought it has actually found Maddox by tags but not so fast. It only found pictures that had "Maddox" in the file name.
Windows 8 Explorer was much better, finding more than 100 pictures of the little fellow, using tags and file names. I had to point Explorer to the file location "Library" to search.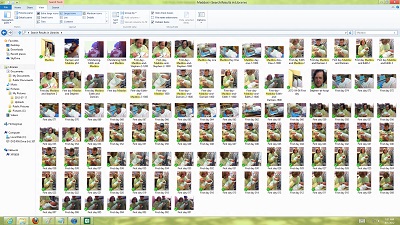 Windows 8 Explorer is still touch aware – that is you can swipe and select pictures with touch. Metro has a slicker screen presentation which is very similar to the iPad iOS.
However, not being able to find a file is more important than good looks.
Equally frustrating Metro tasks include saving files. Forget trying to add a sub-directory or delete one in Metro.
How to Fix Metro File Manager
Microsoft has to fix this. Going back a decade or more in functionality will not work.
In the meantime, setup Windows 8 to ignore Metro and Internet Explorer Metro and use the Desktop Explorer.
I found the illustrated solution in Tech Republic's article Open links in the Windows 8 desktop Internet Explorer every time. It works to get you a decent file manager in Windows 8 but you are by-passing Metro for more than the Start screen.
I am a full-time user of Windows 8 now and will migrate all my computers when the final version ships in October. However, Microsoft needs to finish Metro soon or they will frustrate users and be the subject of media derision.
By Stephen Pate, NJN Network
You can publish this article on your website as long as you provide a link back to this page.