James Charles Marshall the founder of Marshall guitar amps died at 88 years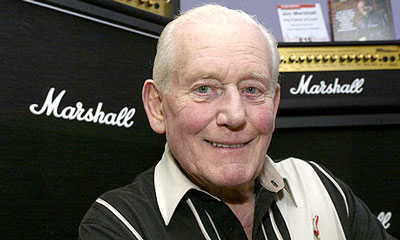 James Charles "Jim" Marshall OBE (July 29, 1923 – April 5, 2012) was a man with poor health, a musician and business person.
In the 1960s he created the Marshall guitar amp and changed the volume of rock music forever.

He died on April 5, 2012 at a hospice in London, UK surrounded by his wife and four children.
If you play rock and roll and don't own a Marshall amp, then you're just not playing the real rock.
He was born in West London and suffered as a child from tuberculosis. He spent many years in hospital and was too weak to enter military service during World War II.
Jim Marshall taught himself to play drums and sang in bands to entertain the troops. To overcome the loudness of the drums, he invented a portable vocal amp. To make extra money he taught drumming to as many as 65 students at a time. Between performing, teaching and the music store, Jim Marshall became a fixture in the British music scene.

Later he was in the music business selling drums, guitars and other equipment. Guitarists like Pete Townshend complained the amps they had weren't loud enough. So Jim Marshall, the electrical engineer, hired a young apprentice electrical engineer. They built several prototypes before they got it right.
"The first model, made in 1962, attracted 23 orders the first day," said the
New York Times
. "Two years later Mr. Marshall had 16 people in a factory making 20 amplifiers a week. Exports began in 1964 with an order from Roy Orbison. More growth followed as the company supplied mammoth sound systems to acts like Deep Purple and Elton John."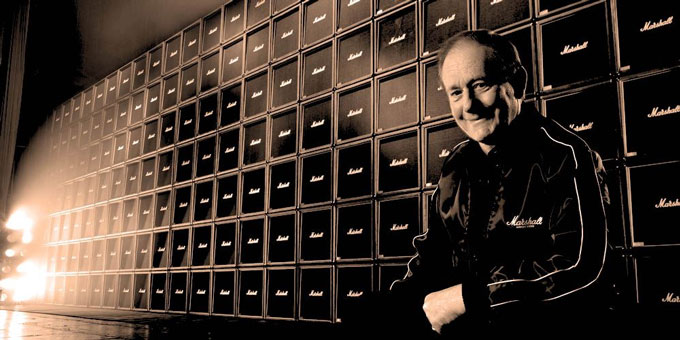 "One of Mr. Marshall's biggest breaks came in 1967 when Hendrix visited his showroom. In just months Hendrix would have a huge hit with his album "Are You Experienced," but at the time, Mr. Marshall recalled, he thought the guitarist was "just another American chap wanting things for free." Hendrix assured him that he intended to pay, and ultimately bought four complete stage setups."
"He was our greatest ambassador, without a doubt," said Mr. Marshall, who considered Hendrix the best guitarist ever.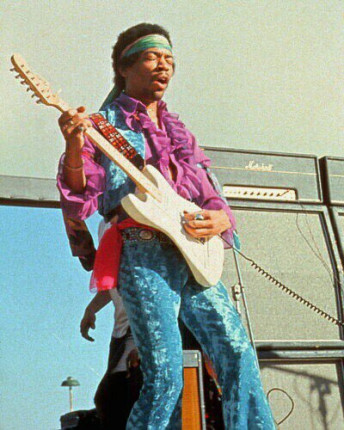 Marshall amps were popularized by guitarists like Jimi Hendrix, Eric Clapton and Jimmy Page. There was no mistaking a stack of Marshall amps on a stage and everyone wanted that thick sound which was completely different than Fender or Vox Amps.
The combination of Marshall amps and the Gibson Les Paul electric guitar is one of the classic sounds of rock and roll. Personally, my Marshall amp beats any other amp for tone, flexibility and volume. "It's a Marshall" says it all.

Marshall Amplifiers
has created a memorial page for their founder and leader of 50 years, Jim Marshall. There is also a
Facebook page
for fans to place their comments.
From the memorial page – "Jim's ascent into the history books as 'the Father of Loud' and the man responsible for 'the Sound of Rock' is a true rags-to-riches tale. Cruelly robbed of his youth by tubercular bones, Jim rose to become one of the four forefathers responsible for creating the tools that allowed rock guitar as we know and love it today to be born.

The ground breaking quartet also includes the late, great trio of Leo Fender, Les Paul and Seth Lover – together with Jim, they truly are the cornerstones of all things rock."

"In addition to the creation of the amps chosen by countless guitar heroes and game changing bands, Jim was also an incredibly humble and generous man who, over the past several decades, has quietly donated many millions of pounds to worthy causes."

"While the entire Marshall Amplification family mourns Jim's passing and will miss him tremendously, we all feel richer for having known him and are happy in the knowledge that he is now in a much better place which has just got a whole lot louder!"
Jim Marshall was a down-to-earth friendly man who donated millions to charity and people in need. He received an OBE (Order of the British Empire) in 2003 for his contribution to the music business and philanthropy.
"Sadly, Jim Marshall has died," the
Roy Orbison official Facebook page
says in tribute. "His amplifiers, Marshall Amps, changed rock music forever. Still today Marshall stacks are the choice amp for many including Slash of Guns and Roses and other hard rock bands. Orbison, who was a guitar gearhead and did most of his customizations himself, befriended Jim Marshall very early. (Little known Marshall amp trivia: Jim Marshall's first big star customer was … Roy Orbison.)"
Other tributes can be found all over the web. Here are a few notable guitarists from
MusicRadar
.

Joe Satriani:
I'm deeply saddened on the news of Jim
Marshall's
passing. He created the tone we all cherish in rock: Big, bold, beautiful and in your face. With every power chord, soaring melody and searing lead we will continue to salute his legacy. R.I.P. Lord of Loud, Jim Marshall."

Slash: "The news of Jim Marshall passing is deeply saddening. R & R will never be the same w/out him. But, his amps will live on FOREVER! \,,/,"

Zakk Wylde: "GOD BLESS FATHER MARSHALL… I Thank The GOOD LORD I was Blessed To have You In My Life… You Rule. GOD BLESS FATHER MARSHALL… The Saying goes, 'Leave This World a Better Place, Then Before You Got Here'…He Did"

Joe Bonamassa: "A very sad day for the Marshall family. My thoughts and prayers go out to Paul and his family. Rest in Peace Jim Marshall OBE…"

Joe Perry:
"
Great sorrow hearing bout the great Jim Marshall passing. Everytime we plug in and make people smile,we owe him debt beyond counting!!!"
By Stephen Pate, NJN Network