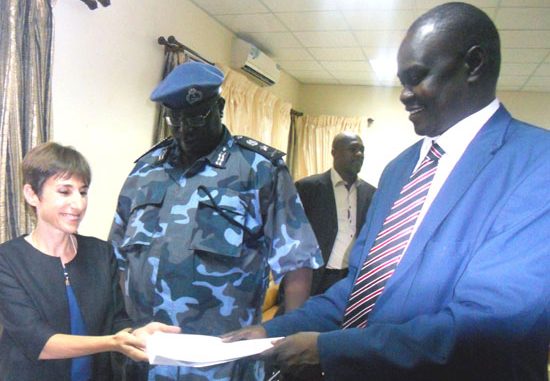 This article was last updated on April 16, 2022

"Registration is very important because we need to know our people, we need to give them citizenship so that their rights are protected and help in development and planning," Maduot said.
"UNHCR (United Nations High Commission for Refugees) is providing generators which will be used by other states to operate and for the mobile registration officers to use in places where we can't get power. But the government has its own plan to decentralize the process to all the states, Countries and Payams," he continued.
According to the Director General the process of collecting the documents by nationals is gearing very well despite the limited manpower and only a centre for the production and issuing the numbers of those who have received the certificates.

"An estimate of 30, 000 South Sudanese have already received the nationality certificate and approximately 18,000 passports have also been issued," Maduot said.
A team has already being prepared to travel to Khartoum and issue the same documents to South Sudanese still living in Sudan. "We are committed to provide our people with all the documents and for the students they should not be worried we will do something about it," he added.
The UNHCR Representative in South Sudan, Mireille Girard said the organization is building the capacity of Immigration Directorate staff to aid in efficiency.
"UNHCR is supporting the Directorate in the deployment of field Mobile teams inside South Sudan to facilitate access to documentation. The agreement also covers some support for the most vulnerable individuals to get access to the documents by reducing the cost for them," said Girard
The MoU is aimed at providing support for the team from the Directorate of Nationality, Passports and Immigration, South Sudan to be seconded to the Embassy in Khartoum to process applications for nationality certificates for South Sudanese living in the Republic of Sudan.
Support the vulnerable applicants to benefit from a cost sharing mechanism for documentation fees. Equip staff of the Directorate of Nationality, Passports and Immigration with skills and knowledge in nationality law and regulations.
Support the Directorate in the printing and dissemination of Nationality, Passports and Immigration regulations.
Issuing nationality documents to South Sudanese citizens abroad is perceived as a core duty of the Government of the Republic of South Sudan, this project aims to support the launch of the operation with the understanding that the Government of South Sudan will soon meet the requirements for the documentation of its nationals in the Diaspora.
You can publish this article on your website as long as you provide a link back to this page.