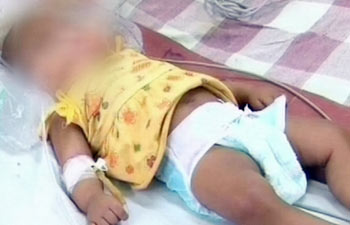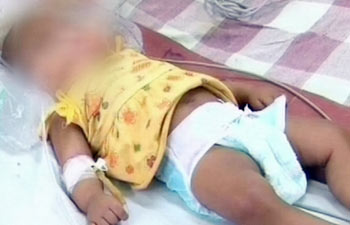 The three month old baby Neha Afreen loses fight against death on Wednesday as she dies of a cardiac arrest in a government hospital after being tortured by her father over being born as a girl.
The Resident Medical Superintendent of the hospital Dr. Some Gowda, declared baby Neha Afreen dead at 11: 10 am after she suffered a cardiac arrest. The baby girl had started experiencing convulsions at 10 pm and could not resist the strength of the heart attack following that. Afreen was experiencing a milder version of comma in the morning after which her condition got worse and she died as a consequence of harsh injuries at such a young age.
Baby Afreen was admitted into the Intense Care Unit of the hospital on Sunday with a dislocated neck and several cigarette burns to her head. The father of Afreen, Umar Farook, has been arrested by the police and he has accepted that he attempted to kill his daughter as he wanted a son. Farook is going to remain under police custody until 21st April after which he will be presented in the court.
The official complaint against Umar Farook for the alleged crime was made by his own wife, mother of Afreen, Reshma Bhanu, as she claimed to be a witness to the torture and demanded the most severe punishment for her husband for killing her daughter.
Article viewed on Oye! Times at www.oyetimes.com