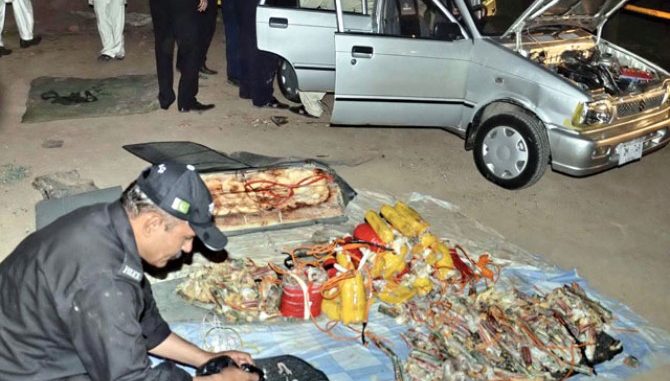 Police in Islamabad have found an explosives-laden vehicle parked near former President Pervez Musharraf's farmhouse, which is currently serving as a sub-jail for its owner. Musharraf has survived multiple attacks by militant groups during his tenure. However, this is the first incident of its nature since he returned to Pakistan after five years of self-imposed expatriation.

"Yes, police have foiled a bid to bomb Musharraf's home. Vehicle has been taken into custody while investigation is under way," a spokesperson of Islamabad police said on Tuesday.

According to Shehzad Town police, 50-kg of explosive material was attached under the seats and in the rear of an allegedly stolen Suzuki Mehran. The car was traced back to a woman who has completely denied owning it. Police suspects that the vehicle has a fake registration plate which will make it more difficult to trace its real owner.

The information about a suspected vehicle was received by a credible source, a police officer told the media. After a police squad reached the scene and confirmed the report, bomb disposal squad was immediately alarmed.

"The explosive material was enough to raze the villa partially," chief of bomb disposal squad of Islamabad police said.

However, the police department is unable to explain how a heavily loaded vehicle swept through high-level security and was parked in close proximity to Musharraf's residence. Dr. Amjad, a spokesperson of Pervez Musharraf raised serious concern over the efficiency of law enforcement agencies.

"Given that several militant groups have already threatened Pervez Musharraf of dire consequences, law enforcement agencies should have enhanced his security. We need to know how the certain elements managed to reach too close to the target," Dr. Amjad said.