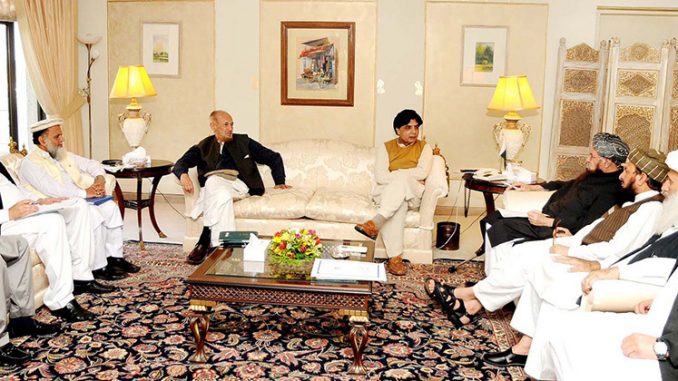 Maulana Samiul Haq, the head of the Taliban negotiating committee, informed this Saturday that the venue for the direct talks between the government committee and the Taliban committee has been selected. The venue was decided at a meeting held between the two committees at the Punjab House, which was also attended by the Interior Minister, Chaudhary Nisar Ali Khan. The meeting lasted for over two hours, after which Maulana Samiul Haq talked and announced that the direct talks were expected soon. He further added that by 'soon' he meant within two or three days.

He also told the media that the meeting held today was held in a peaceful atmosphere in which both the sides showed open-heartedness and no one was egoistic while deciding upon the venue. "The Taliban and the government committee will hold talks at the agreed peaceful place in our presence during next two to three days. This is a good achievement," expressed Maulana Samiul Haq. When questioned about the selected venue, he said, "It will be known to all when the talks will be held. However, due to security and other reasons, I cannot disclose the site for the time-being".

Maulana also informed the media that the two sides had started trusting each other and now did not need guarantees to carry the talks further. "Our presence (Taliban negotiation committee) is a guarantee for both the sides." He also said that the venue would be a peace zone for the dialogue process. All issues such as the prisoners release, would be discussed in the direct talks, he added. He said the Taliban negotiation committee would try to resolve any issues that arise while the direct talks are being held.