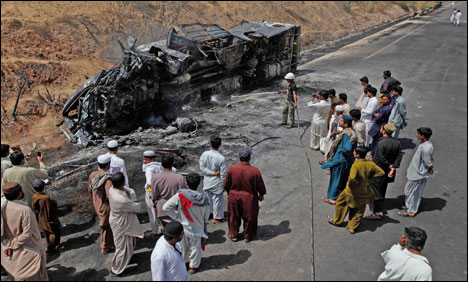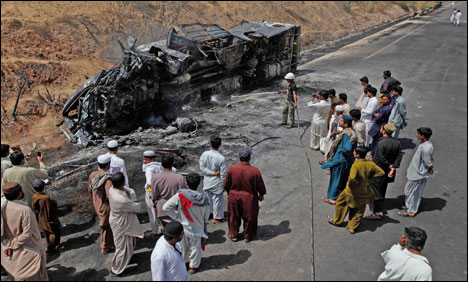 A fatal accident took place when a bus travelling to Karachi collided with a petrol tanker earlier this morning in Gadani Hub district on the coast of Balochistan province, the senior administration official Akbar Haripal informed the media. "The bus and the tanker had a head-on collision and the oil tanker turned over, but the situation got worse when a second passenger bus coming from behind rammed into the first bus as it skidded on the oil spilled on the road," Haripal said.

The first bus then caught fire, he said, adding that 35 people died, most of them burning to death due to being trapped inside the bus, and 30 were injured. The local police chief Ahmed Nawaz added to Haripal's comments, informing that the second bus and truck piled up onto the two vehicles and all four vehicles caught fire. Most of the victims, including women and children, were severely burned and were transported to Karachi. Ten of the injured died on their way to the hospital which caused the death toll to increase to 35, he informed.

The officials of the Pakistan Navy said contact had been established with six personnel who had been travelling in the same area and had been missing after the accident. These Navy personnel were travelling from Ormara to Karachi when contact with them was lost. The officials later informed that all personnel were safe. Speaking in the Balochistan Assembly on Saturday evening, the Chief Minister Dr Malik Baloch said "We are really shocked and saddened by the incident." He further added that smuggled Iranian diesel and oil loaded in buses had caused the incident.