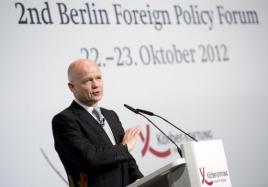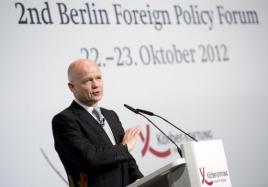 The Foreign Secretary, William Hague has warned on Tuesday as the Government fights a new rise in the Brussels budget that British Public unhappiness with the European Union is "the deepest it has ever been".
Mr. Hague will use a speech in Berlin to insist that Germany must allow the U.K. to reclaim powers from Brussels or risk the collapse of the EU to lessen the Britons' feeling that they did not "have a say" over decision-making in Brussels. Mr. Hague's comments will come amid tensions between Britain and Germany over Berlin's push for greater European policy coordination have come to a head in recent weeks.
The German chancellor, Angela Merkel, has been irritated by the increasingly forceful stance of David Cameron's administration. The Prime Minister yesterday insisted Britain would "stick to our guns" on his promise to freeze the EU budget in case of being above the rate of inflation.
Germany backs the European Commission's call for a spending increase of around one percent. But Mr. Hague has dismissed the proposal as "massive" at a time when Britain is implementing several crucial cuts to its own budget.
The European Commission is seeking a one trillion euro budget for 2014-20 7 years span, equating to 1.1% of the 27-nation bloc's gross income.
The German government has refused reports that Chancellor Angela Merkel is prepared to cancel next month's EU summit unless Mr. Cameron lifts his veto threat.
Finnish Foreign Minister, Alexander Stubb, who has taken part in debate and whose country has frequently sided with Germany in its austerity drive to beat the euro crisis, raised concern about growing British euroscepticism.
Hague has said the EU needed to solve three problems to maintain its relevance to a wider European Union: structuring the bloc so countries could pursue different levels of integration, dealing with a lack of democratic legitimacy and accountability and getting the right balance between what the EU does or does not do.
Article viewed on Oye! Times at www.oyetimes.com.