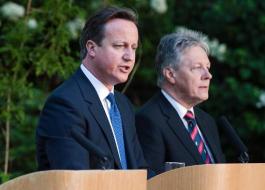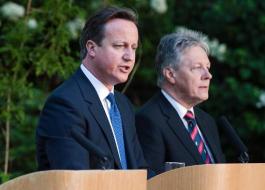 British Prime Minister David Cameron has called to launch an independent review by an appointed judge into immunity letters sent to 200 IRA suspects, apparently without informing the devolved Northern Ireland assembly at Stormont.
The letters get disclosed publicly on Tuesday after one of them caused the collapse of the trial of John Downey, 62, the man accused to be involved in the 1982 Hyde Park bombing in London by the Irish Republican Army (IRA), an anti-British paramilitary group.
The ruling on Tuesday led to the revelation that British authorities had sent letters to about 200 on-the-run (OTRs) republicans suspected of crimes during Northern Ireland's violent past, assuring them they would not be prosecuted if they returned to Northern Ireland.
On Wednesday, Northern Ireland First Minister Peter Robinson had threatened to step down from the power-sharing executive in Belfast if U.K. government failed to announce an inquiry into this blunder by Thursday night.
After Mr Peterson's demand, Mr Cameron had called for a joint press conference in London with visiting German Chancellor Angela Merkel to announce an independent judicial review into the letters.
The Prime minister has said: "The case has already been referred to the Police Ombudsman but, as the First Minister has said, we should have a full, independent examination of the whole operation of this scheme.
"So I can announce today that we will appoint an independent judge to produce a full public account of the operation of this administrative scheme to determine whether any other letters were sent in error."
Mr Cameron has further told that the judge will be given "full access to government files and officials" and will report by May, with the findings being published.
Mr Cameron has repeatedly expressed his anger that the letter to Downey was a "terrible mistake", but his government has decided not to appeal against the ruling and seek a retrial.
Article viewed on Oye! Times at www.oyetimes.com.