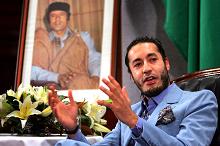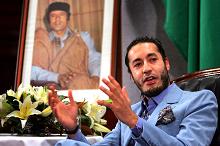 Rumor has it that an Ontario-based private security person violated international laws by assisting Colonel Muammar Gaddafi's son in escaping Canada. Allegedly, 38-year-old Saadi Gaddafi ran to West Africa when NATO armed forces bombarded Tripoli in September.
In response to the prevailing rumors, Canada's Libyan community has requested the federal government to start an inquiry to conclude whether these rumors are true.
Nada Basir of the Canadian Libyan Council said: "There's the quite the possibility that laws were broken internationally in this and we're really hoping that the Canadian government takes it seriously.
The Canadian government was part of the NATO mission and they pushed for it and supported the NATO mission and to have someone on Canadian soil defy it, goes against Canadian morals and the troops that were fighting in this mission."
Saadi Gaddafi's former security guard, Australian born Gary Peters is settled in Ontario, Canada. Apparently, Peters is giving the insight on how Saadi was carefully escorted to Niger, Africa.
Peters is also the president of Can/Aus Security & Investigations International Inc. According to the sources, he was with the squad including Australian, Russian, New Zealand and Iraqi ex-special forces that initially assisted the convoy comprising Gaddafi's wife, daughter and sons Hannibal and Mohammed to flee to Algeria – escorting Saadi to Niger was an extension of the previous plan.
Article viewed on Oye! Times @ www.oyetimes.com