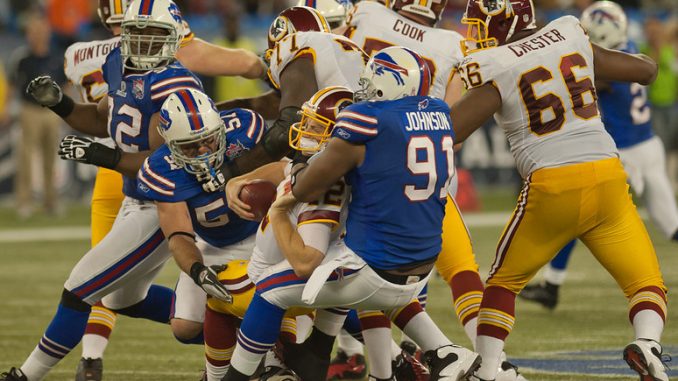 Scott Chandler Pulls in Two Touchdowns and Bills Defence Combines for Nine Sacks

The Buffalo Bills are finally starting to feel at home in Toronto.
After going 0-3 in regular season games north of the border in the Bills Toronto Series, Buffalo finally had the crowd on its side as it completely dominated the Washington Redskins in a 23-0 shutout.
But the big story of the game was the Bills defence, which combined for nine sacks and two interceptions on Redskins quarterback John Beck as well as a blocked field goal. Buffalo utilized the blitz on several occasions and resulted in Beck being hit hard and knocked down onto the turf.
"That was amazing," said Bills coach Chan Gailey. "To go out there and get nine sacks against that team. They really worked hard at it during the bye week."
"I don't think anybody expected that. I'll be honest with you, I didn't expect that. But they gave such a great effort and did a good job of working technique and getting back to fundamentals."
Safety George Wilson, who has been criticized for his defensive coverage, said the goal was to win the one-on-one matchups.
"We just talked about dominating the guy who we're matched up against and that goes for pass coverage and pass rush," said Wilson. "We did a great job of making them one-dimensional, stopping the run today."

"I heard some rumblings throughout the week that I was a little lax in my man-coverage so I took it upon myself to come out and challenge them."
Bills quarterback Ryan Fitzpatrick, fresh off signing a six-year, $59 million contract on Friday, threw for two touchdowns, both to tight end Scott Chandler, and was 21 for 27 passing for a total of 262 yards. Kicker Rian Lindell provided the rest of the offence with three field goals. Chandler tied a franchise record for most touchdowns by a tight end in a season.
Ahead of the game, there was a lot of concern from the Bills about coming out of its bye week flat and unprepared.
"There was a lot of talk too with this new way the bye week was going and the four days off that people were not coming out and playing well after their bye and we didn't believe in that," said Fitzpatrick.
"We really stressed that we're going to come out start fast, play well and the effort our defence had today, obviously all we needed was three points to win that one. But I thought the guys up front, again great job – when you got 22 (Fred Jackson) on your team you always got a chance."

Fitzpatrick only threw for 54 more yards than his counterpart John Beck, but he was a lot more efficient with his passing. But where the Bills did dominate was the running game. The Bills defence limited the Redskins to only 26 yards in rushing compared to 138 for the Bills, which came almost entirely from Fred Jackson who finished with 120 yards.
"As long as our defence is playing like that we feel like we can beat anybody," said Jackson. "They did a tremendous job creating turnovers, getting sacks and pitching a shutout. I think that's the number one thing. So as long as they come out and play like that we can beat anybody."
Jackson passed 1,000 yards from scrimmage in just the seventh game of the season, becoming only the fourth player in Bills history to complete the feat and the first since Thurman Thomas did it in 1991.
The Bills (5-2) moved into a tie for first in the AFC East with the New England Patriots who lost 25-17 to the Pittsburgh Steelers. Meanwhile the Redskins (3-4) dropped its third straight game after starting the year at 3-1.
Although Washington was completely outplayed in the game, the team was without several players due to injuries, including running back Tim Hightower (knee), receiver Santana Moss (hand) and tight end Chris Cooley (knee).
Complete Game

The Bills used a big chunk of the first quarter in its first scoring drive of the game in eight plays for 80 yards in 4:53. Fitzpatrick finished it off with a 19-yard pass to Chandler near the left sideline and the tight end barely ran in for the touchdown.
In the second quarter, Beck looked to be on his way to a successful scoring drive on his own until the Bills defence took over. With the ball on the Bills' 22 yard line, Beck gets sacked for a loss for nine yards on third down. The Redskins looked as though it would get on the board with a field goal, but the 49-yard attempt by kicker Graham Gano was blocked by Spencer Johnson.
On the next possession by the Bills, Redskins' Josh Wilson was called for defensive pass interference resulting in a 34 yard penalty. The call put Buffalo in field goal territory and after Fitzpatrick was unable to get much closer, Lindell knocked a 37 yard field goal through the uprights.
Late in the first half, Fitzpatrick took a hard hit in the chest from Redskins linebacker London Fletcher. Although he didn't know it at the time, the Bills quarterback was able to complete a short to Jackson before getting hit and the running back made a long run to stretch it into a 46-yard gain. Fitzpatrick was down briefly as he was winded on the play, but stayed in the game.
Shortly after the big play by Jackson, Lindell converted a 44-yard field goal to end the first half with the Bills up 13-0.

The second half started off with a bang for the Bills with Jackson catching a pass up the middle and running for 43 yards before being pushed out of bounds. Six plays later and Fitzpatrick passed 15 yard short left to find Chandler once again, this time all alone in the end zone for another touchdown.
The Bills added another field goal late in the game, this time a 41 yard field goal by Lindell to complete the scoring.
After the game, the Bills talked about how great the crowd was at Rogers Centre as the attendance of 51,579 was just a couple of thousand short of a sellout.
"It was a lot better," said Wilson who was the most vocal against Toronto fans earlier in the week. "This was definitely the most exciting crowd we've had since we've played up here."
"And earlier in the week I know I was very critical of the environment and I talked about having to give this crowd something to cheer about as opposed to us giving up plays on defence, them cheering for the other team…The fans were really excited and got into the game. It was just good to have an exciting environment out here today."

To follow me on twitter click HERE
Photos courtesy of John Lucero.
Click HERE to view more pictures from the game.
Download or stream the 500 Level podcast with co-hosts Aman Dhanoa and Ben Trattner as they discuss news, opinions, and views on Toronto sports from the Upper Deck. Leafs, Raptors, Jays, Argos, TFC – nothing is off limits. It's good to be a fan!