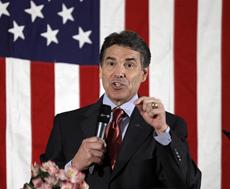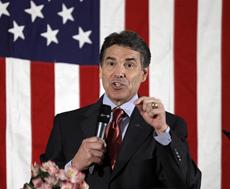 Rick Perry is out to make Washington a little more like Texas, as he unveils proposals today to cut the pay of Congress, end lifetime appointments of all federal judges and revamp a bureaucracy that he believes hampers the economy.
The GOP presidential hopeful and Texas governor will outline his "Uproot and Overhaul Washington" plan today in Iowa, which hosts the lead-off caucuses in less than two months.
"Washington doesn't need a new coat of paint," Perry told an Iowa crowd Monday night, according to the Texas Tribune. "It needs a complete overhaul."
A fact sheet on the proposals is in Politico, which gave a preview.
At the heart of Perry's plan is one to reshape Congress into a part-time "citizen" Congress and cut each rank-and-file member's salary of $174,000 a year in half. In Texas, legislators meet for 140 days every other year and get paid $7,200 annually — not including per diem for every day the legislature is in regular and special session.
Playing off a report aired Sunday on CBS' 60 Minutes, Perry also seeks to criminalize insider trading by members of Congress. The governor cut a video spot on the topic on Monday, saying any congressman or senator who makes a stock profit from inside knowledge ought to go to jail. He also wants a 2/3 vote by Congress to increase taxes.
Article Viewed on Oye! Times @ www.oyetimes.com