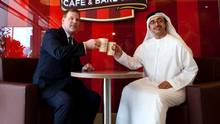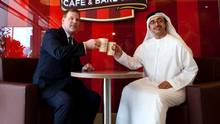 A quarrel with the authorities of United Arab Emirates that led to the Canadian troops being escorted out of a base was ended, and affirmed to be water under the bridge, by both country's foreign minister as they shared a cup of coffee at Tim Hortons in Abu Dhabi. It was assured by the UAE on Monday that it is planning to circumvent the last of the costly visa requirements it imposed in light of a dispute ignited in 2010, as Foreign Affairs Minister, John Baird, toured the country during larger trip of the Middle East.

Back in 2010, Mr. Baird, acting as Transport Minister, played a major role in spurring up the conflict by refusing the U.A.E., on behalf of Canada, to allow more routes to Canada for its major airlines, including Emirates and Etihad. In retaliation, the UAE booted the Canadian Forces out of Camp Mirage, which was a staging base in Dubai used to control operations in Afghanistan. Additionally, it later began imposing bulky visa fees on Canadian travelers, i.e. $1,000 for a six-month visa and $250 for a 30-day visa.

However, recently on Tuesday, both countries issued a joint statement declaring that the UAE has indicated to remove the bulky visa fees it imposed on Canadian travellers. Mr. Baird's visit to the Abu Dhabi also symbolized warmer ties with an unusual photo op at a Tim Hortons in Abu Dhabi with the Emirati foreign minister, Sheik Abdullah bin Zayed Al Nayan.