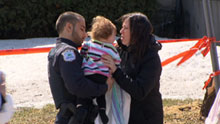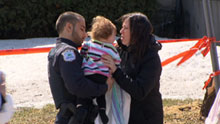 At a press conference on Monday afternoon, Gatineau Police released the identity of the gunman shot dead in Friday's daycare murder-suicide in Gatineau, Que., as the facility's handyman and stated that he drenched his estranged wife with a flammable liquid in attempt to set her on fire. According to the details released by the police, gunman, Robert Charron, sprayed daycare's director, Nathalie Gagnon, and her office with an unnamed liquid, but failed to set a fire. Police has not yet discovered how the woman escaped.

38-year-old Neil Galliou, who belonged to France, was an employee of the daycare, and was killed in a struggle with Charron. Soon after police arrived at the crime scene, it found Charron dead with a hunting rifle by his side at the Racines de Vie (Roots of Life) Montessori school. The police representatives clarified that there is no reason to believe that there was a "love triangle" between those involved, refuting all previously swirling rumors. Police are still investigating the incident and promise to release more information and an exact timeline of events soon.

Police report disclosed that right after entering, Charron asked the daycare staff to evacuate all children from the facility, although police claims that some children might have still witnessed the violence. However, investigators have decided that it is not "pertinent" for any children to be interviewed. The weapon used was a registered hunting rifle. Police arrived at the daycare within three minutes of the 9/11 call, although Charron was already dead at the time.