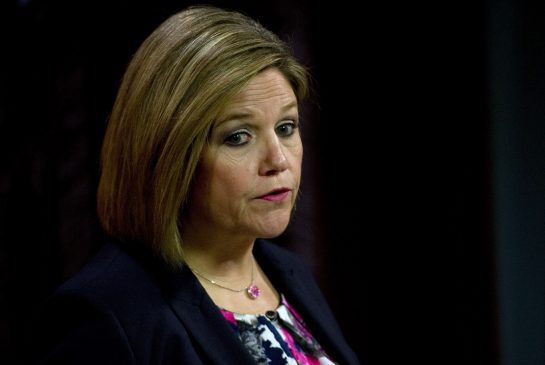 This article was last updated on April 16, 2022

NDP Leader Andrea Horwath has finally made a much awaited announcement on Tuesday, declaring that her party is prepared to support the budget of Premier Kathleen Wynne's minority Liberals, consequently deterring a possible June election. Addressing reporters at Queen's Park, Horwath confessed that "it's not everything we wanted. It's not everything people have told us they need," adding that "but we're proud to deliver results that will make people's lives better and government more accountable." She added that "we're happy about that."
Horwath's key achievement is a new Financial Accountability Office, modeled on the federal Parliamentary Budget Officer. However, premier reportedly declined Horwath's demand to boost the Ombudsman of Ontario's power to encompass, as Wynne announced to instead introduce vague new "accountability measures across the health-care system." Meanwhile, another of Horwath's request that Liberals rethink carpool lane tool to bankroll public transit was declined as well. Consequently, having only one of her three demands met, the New Democratic leader asserted to have won ample concessions in Finance Minister Charles Sousa's May 2 budget.
However, Sousa's fiscal plan has still accommodated copious number of NDP-influenced policies, including a 15 per cent cut to auto insurance, new funding for youth jobs and improved home care health services. Horwath stated that "we worked hard to deliver results," and "we could have pulled the plug." Horwath's announcement to support Liberal's budget was a birthday present for Liberal leader Wynne, who turned 60 on Tuesday.
You can publish this article on your website as long as you provide a link back to this page.