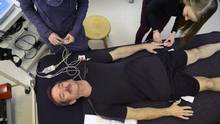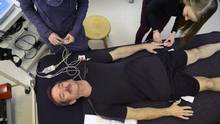 Even though Chris Hadfield physically ended his voyage to the outer space last May, when his capsule bumped down on the Kazakhstan steppe, but scientifically speaking it did not end until Tuesday when he laid down for the last time on a cot in a small lab at the University of Waterloo. Having multiple sensors attached to his arms and legs, along with an ultrasound probe pressed against his neck, Colonel Hadfield was no longer being tested as a subject feeling the effects of a long-duration spaceflight.
The equipment attached on Tuesday was instead linked to verify the degree to which his body, especially his circulatory system, has regained its former condition that was on display on an array of monitors surrounding his spare, muscular frame. Colonel Hadfield was inspected by a physiologist and professor at the university, namely Richard Hughson, who had made Col. Hadfield's blood vessels the focus of a study due to the apparent link between weightlessness and cardiovascular aging.
Speaking at the time, Dr. Hughson stated that "spaceflight is the ultimate sedentary lifestyle, and we know that being sedentary on Earth advances the progression of cardiovascular disease." Last time Dr. Hughson's team had a peak into Col. Hadfield's bloodstream was right after his return from the International Space Station when his body was still entirely adapting to life in free fall. Now, Dr. Hughson is exploring the effects of "one-g" Hadfield, who has, for the most part, bounced back after experiencing five months of "zero g" while in orbit.