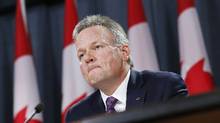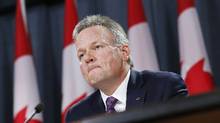 One of the most concerning matter on the Bank of Canada's agenda is now disinflation, as the central bank continues its benchmark key rate unchanged at 1 per cent. According to the bank, a persistent and unforeseen decrease in inflation is a result of excessive supply in the economy and increased competition in the retail sector, while an influx of new U.S. chains is shaking up the industry.

According to the official statement issued by the Bank of Canada on Wednesday, it announced its final rate for 2013, acknowledging that "the downside risks to inflation appear to be greater." However, despite having admitted that, the bank claims that it has to "balance the risks," which allegedly justify its decision to leave the overnight lending rate unchanged where it has been kept since September 2010. Meanwhile, the consumer prices have reached at a minuscule annual rate of 0.7 per cent across the country in October. Whereas, inflation is not only less than the central bank's 2 per cent target, but is almost at the bottom end of its 1 to 3 per cent target band.

In light of the willfully low inflation rate kept since quite a while, it is now plausible to predict that the bank's next move can just as easily be a cut in its benchmark overnight lending rate. Whereas many economist also allege that rather an actual rate cut, the bank is equally likely to keep rates low for longer, delaying an eventual rate hike well into 2015. In its announcement, the bank maintained its expectation of the economy returning to "full production capacity" almost at the end of 2015.