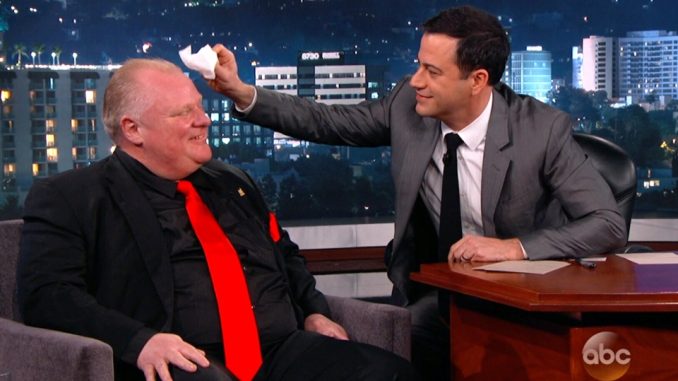 Toronto Mayor Rob Ford admitted knowing he was "going into a lion's den" when he reached the set of Jimmy Kimmel Live. However, soon after returning from Hollywood, Toronto's celebrity mayor alleged that he had no regrets about being a guest at the show broadcasted on Monday evening.

Returning back at city hall on Tuesday around 1 p.m., Ford alleged "was it a tough interview? Sure it was but he (Kimmel) has a job to do, that's his job. I haven't seen one of his shows that he doesn't take shots at people." He added that "I held my own and I got my message out that I've saved taxpayers' money, all my achievements. I wish I had more time to promote Toronto." Mr. Kimmel's questions were divided in three segments, which mainly focused on the accusations of domestic abuse, drunk driving, his drinking, and his ongoing feud with the police chief.

Mayor Ford directly ruled out feeling embarrassed, and didn't seem surprised about any of the tough questions as well. Attending Toronto media at city hall, Mr. Ford alleged that "no, not at all, going through you guys, if you can survive the Toronto media you can survive anything so …that was a walk in the park compared to you guys." In response to Kimmel's suggestion to seek advice for substance abuse, Ford stated that "I don't have any personal issues. We've gone down that road a number of times," adding that he planned to "hit the gym" after work despite being sleep-deprived following an overnight flight from Los Angeles.