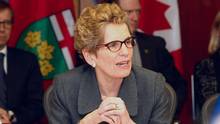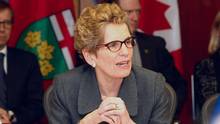 Ontario Premier Kathleen Wynne took take a step further to alleviate Liberal scandals by announcing to soon table a comprehensive transparency legislation that aims at expanding the powers of the provincial ombudsman. By introducing the new bill, the government aims to create a new independent watchdog to oversee the health care sector and compel MPPs and top civil servants to post their expenses online.

According to The Accountability Act, it will be illegal to destroy government documents and in case of violation of the rule, the violator will be imposed fines up to $5,000. This rule is a direct response to the deletion of e-mails by staff in former premier Dalton McGuinty's office during the gas plant scandal. While making the announcement at Queen's Park on Thursday, Ms. Wynne stated that "I came into office saying I was going to do government differently," and stressed on the fact that "transparency is important."

The bill aims at allowing Ontario's ombudsman, Andre Marin, to have more power to investigate municipal governments and their agencies, universities and schools. It proposes to create a separate ombudsman for the health care sector, including hospitals, long-term care facilities and community care access centres. Meanwhile, the children and youth advocate will have his position upgraded to that of an ombudsman. In addition to that, the government also hopes to acquire the power to impose salary caps on civil servants, while an integrity commissioner will be able to review executive expenses at public agencies.