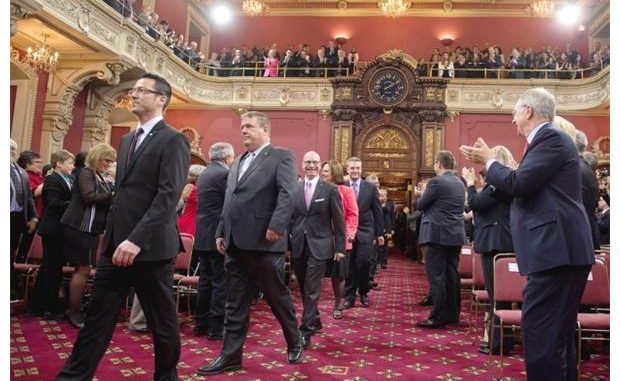 During the closing of a swearing-in event for 68 of the 70 Liberals elected in the provincial election last week, Premier-designate Philippe Couillard stated that Quebecers "judged us worthy of their confidence." Addressing the newly elected MNAs on Thursday, Couillard alleged that "we will not disappoint them" and "we will form together in the coming days a government of all Quebecers."

In his address, Couillard stated that "you will all be associated with this government. Together we will form a competent, responsible government, with integrity and transparency." He alleged that being a member of the Assembly is a source of "honour and pride" and "as an MNA, you represent all the people in your riding, of all origins, and of all political affiliations." According to Couillard, while MNAs are tasked to carry the government's message to their constituents, they should not isolate themselves in a political bubble but instead bring to the Assembly the realities of their people. He explained that "you should meet them, listen to them, help them, because you will be their voice in our parliament."

Moreover, Couillard elucidated that as members of the Liberals caucus, they should defend the rights of individuals, stand for social justice and see economic development as the means to meet these ends. Moreover, he pointed out that even though the Quebec Liberals are not affiliated with any federal party, they are attached to Canada, to "which we have contributed to building," and added that belonging to the Canadian federation has contributed to Quebec's success.