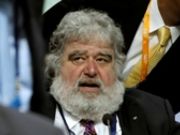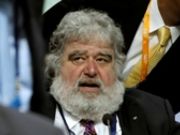 FIFA Ethics Committee should investigate Blazer – Bin Hammam
Tuesday, July 26, 2011
Mohamed bin Hammam continued his fight against a lifetime ban from world football on Monday by calling for FIFA whistleblower Chuck Blazer to be brought before the governing body's Ethics Committee.
Bin Hammam was handed the ban on Saturday after the suspended Asian Football Confederation president was found guilty of bribery in his campaign to replace Sepp Blatter at the helm of FIFA. Speaking in his official blog on Monday, the Qatari demanded FIFA release all evidence against him into the public domain and followed this up by calling for an investigation into payments made to Confederation of North, Central American and Caribbean Association Football (CONCACAF) general secretary Blazer.
Bin Hammam has accused Blazer (pictured) of receiving a $250,000 payment from the Caribbean Football Union on March 31 this year and has questioned payments totalling $9 million made to the CONCACAF chief during the last five years. Bin Hammam told Sky News: "When you are claiming that the Caribbean (Football) Union does not have money, how come a few weeks earlier you have received from the Caribbean Union $250,000? And how come it is in the statements that you have received over four or five years $9 million? It is a very reasonable question really to be asked to FIFA's Ethics Committee and to be asked to Mr Blazer, and I hope that they are ethical enough to open a case."
However, Blazer has strongly denied any wrongdoing and stated that the $250,000 was a repayment of a loan he'd made to former FIFA vice-president Jack Warner and added that the $9 million represented his 10% commission from marketing and TV rights for CONCACAF. Blazer said: "As a precaution, I have set aside these funds and am prepared to return them should it turn out that the CFU was the source of the funds and not Jack Warner, as was represented to me…This percentage on marketing rights is consistent with industry standards. CONCACAF has never been in a stronger financial position. This is not in violation of any Ethics Code nor would it be a matter for the Ethics Committee."
Source: SoccerEx Business Daily
Panasonic links up with UAE Football Association
Tuesday, July 26, 2011
The United Arab Emirates Football Association (UAE FA) has bolstered its commercial portfolio by striking a three-year partnership with Panasonic Middle East.
The agreement sees Panasonic become the official electronics partner of the UAE FA. The Japanese manufacturer's logo will be placed on the jerseys of all UAE national teams, while it will also have branding rights in the stadia for all home matches.
"At Panasonic we are always investing in our future and through this partnership we want to help the UAE FA develop and nurture champions of the future," said Kamran Khan, deputy managing director of Panasonic Middle East and Africa. "Football in the UAE is hugely popular and the UAE national teams have been performing consistently at international levels."
Saeed Abdul Ghaffar Hussain, vice-president of UAE FA, added: "Panasonic will play an important role in the promotion of UAE football on a global stage. We are confident that the partnership between the two organisations in the pursuit of excellence will bring rewarding benefits to our youth."
Source: SoccerEx Business Daily
German Football Association reveals 2011 Women's World Cup profits
Tuesday, July 26, 2011
The 2011 FIFA Women's World Cup made a net profit of Eur7.6 million, according to figures released by the German Football Association (DFB).
Germany's staging of the World Cup concluded on July 17 as Japan lifted the trophy with a thrilling penalty shoot-out victory over the United States in Frankfurt. Provisional figures indicated that the tournament generated revenues of Eur50.6 million, half of which was provided by ticket sales.
A total of 782,000 tickets were sold for the World Cup, with DFB president Theo Zwanziger citing this as one of two key factors behind the success of the event, along with the "highly professional work" of the organising committee. "Increased revenues generated by selling more tickets despite less spending – this was the formula for success creating these surprisingly positive results," said Zwanziger. "The fact that the games, especially those without German participation, saw more visitors flock to the stadia than we expected, is one of the two main reasons for the great economic success."
Around Eur5 million of the profit will be allocated towards the promotion of women's football in Germany, while Eur1 million apiece will be granted to German sport in general and as bonuses to the organising committee. The remainder will see stadium operators receive an additional Eur20,000 for each match played at their venues. The 2015 World Cup will be hosted by Canada.
Source: SoccerEx Business Daily
Blatter expresses confidence in Brazil's World Cup preparations
Thursday, July 28, 2011
FIFA president Sepp Blatter has declared that a new confidence has been established with Brazil's organising committee regarding preparations for the 2014 World Cup.
FIFA on Wednesday confirmed that the tournament would begin on June 12 with the final set for July 13. FIFA secretary general Jerome Valcke last month delivered a scathing attack on Brazil's preparations for the World Cup, insisting "there is a lot of work to deliver". However, Blatter painted a rosier picture as he spoke in Rio de Janeiro ahead of Saturday's qualifying draw. "The Government, the minister of sport and the President of Brazil, Dilma Rousseff, are all confident, and we at FIFA are also confident and we have the trust that this World Cup will be a success," he said, according to Reuters. "It is a country not only of football but of happiness, but the reality is that there is still some work to be done. But I am sure, with trust and confidence, Brazil and FIFA together will deliver an exceptional World Cup in 2014."
Meanwhile, Blatter denied accusations from Mohamed bin Hammam that he ran FIFA like a dictatorship, but refused to comment on the ongoing corruption case involving the Qatari. Bin Hammam is planning to appeal against the life ban handed out by FIFA's Ethics Committee for allegedly offering bribes to Caribbean Football Union (CFU) officials in return for their backing in his bid for the FIFA presidency. In an interview at the weekend he claimed Blatter was a dictator who silenced anyone that opposed the way he ran FIFA.
Blatter responded: "I am not alone, I am not a dictator as has been said, I am not alone, I work with my executive committee, with my administration, and with a lot of advisors. They know what it means to have transparency on one side, and anti-corruption on the other side. Do not forget that in FIFA we have 300 million people who work directly in football and in 300 million you cannot have only good people. But I will not make any comments on the decisions of the Ethics Committee, and the follow-up by the media, and I ask you to understand my situation and let FIFA work in compliance with the strong demand of the FIFA Congress to go forward."
Source: SoccerEx Business Daily
Manchester United Defeats MLS All-Stars For Second Straight Year
Manchester United last night defeated the MLS All-Stars 4-0 in front of a sellout crowd of 26,760 at Red Bull Arena. The game was a rematch of last year's contest, which ManU won 5-2. MLS Commissioner Don Garber last night said of the dangers of playing one of the world's best soccer teams: "There's no question there's a risk for us, but at the end of the day it's worth exposing our league to the best in the world" (N.Y. TIMES, 7/28).
But the N.Y. TIMES' Jack Bell writes, "There is a difference between exposing the world to the league's best and being exposed by the defending champions" of the EPL (N.Y. TIMES, 7/28). The WASHINGTON POST's Steven Goff writes the game "illuminated the gap between the sport's elite and the 15-year-old league. In fairness, the MLS group was together for only two days while United … was beginning to round into form during this five-game preseason tour" (WASHINGTON POST, 7/28).
Source: sportsbusinessdaily.com

Worldwide Sensation: Sales Of EA Sports' "FIFA 11" Title Are Nearing 15 Million
By Eric Fisher, Staff Writer, SportsBusiness Journal
Published July 27, 2011
"FIFA 11" sales helped propel EA to big gains in Q1 net income
Sales of EA Sports' "FIFA 11" have approached 15 million units, when combining physical sales and digital mobile downloads, according to a company quarterly earnings report issued late yesterday. In May, "FIFA" sales had been reported at 12 million. EA, meanwhile, reported total company net income for its fiscal first quarter of $221M, more than double the $96M for the same quarter a year ago, and up from $151M for the prior quarter. As it did in May, the latest quarterly report also listed four as-yet-unannounced EA Sports titles to be released between January and March '12. One of them will definitely be the next version of "Tiger Woods PGA Tour." Speculation on the rest has included new arcade-style iterations of its "FIFA" and "NFL" franchises and possibly another digital MLB product. The company in a separate announcement said yesterday more than 700,000 units of "NCAA Football 12" have been sold in its first two weeks of retail release, up 17% year-over-year.
Don Garber Hailed For Redefining MLS In Nearly 12 Years As Commissioner
Published July 27, 2011
Garber expects MLS to be among world's best soccer leagues in 10 years
The sold-out crowd that will attend tonight's MLS All-Star Game against EPL club Manchester United at Red Bull Arena is "symbolic of the success" Don Garber has had since becoming MLS Commissioner in August '99, according to Michael Fensom of the Newark STAR-LEDGER. Garber has "redefined the MLS landscape during his tenure." Fensom: "Rule changes have brought the sport in sync with other soccer leagues around the world and Garber's stewardship has pushed each franchise to start its own youth academy." But Garber "insists the league must pay careful attention to its growth strategy as it continues to evolve and capture the interest of soccer fans across the United States and internationally." Garber said, "We are the NFL 50 years ago, we're baseball and basketball 50 years ago. We're still figuring out what things we need to do and how to innovate, how to evolve and how to take advantage of market change and opportunity and doing it in real-time." Garber noted while the league's ratings "have grown on ESPN and Fox this year they're not as large as we'd like them to be." He said, "We're seeing a smaller group of people watching MLS games than watch soccer overall on television. We're trying to figure that out. Is there too much soccer on? Is it scheduled improperly?" Meanwhile, Garber said of Red Bull Arena, "This league and the sport in America needed a soccer stadium in the New York-Metropolitan area. … This is a total game-changer for us. And part of the momentum we have is driven by what is happening in New Jersey. This is one of the best stadiums of its kind in the world" (Newark STAR-LEDGER, 7/24). In Newark, Frank Giase notes Garber "expects MLS to be one of the top soccer leagues in the world within the next 10 years." He said, "We believe that over the next 10 years, if we continue to be smart, focused and innovative, that our league can compete with the other leagues around the world 10 years from now." Garber "believes that building stadiums, especially Red Bull Arena, the crown jewel of MLS … and the continued development of team academies, is the key" (Newark STAR-LEDGER, 7/27).
FOOTBALLING LESSON: The Sounders lost 7-0 last week in a friendly against ManU at CenturyLink Field, and in Tacoma, Don Ruiz noted the club "hasn't decided what it will do in terms of scheduling friendlies in 2012." Sounders Minority Owner & GM Adrian Hanauer said, "I think the only thing that we have decided is if we do it we need to do a better job of thinking about the entertainment that we provide our fans on our side of the equation. … We're certainly licking our wounds and reassessing things, but we haven't made any conclusions." He added, "There's a very stark reality that we have to face: To some degree you get what you pay for. A $3 million payroll against a $300 million payroll, it's going to go the way of the $300 million payroll a whole lot of the time. But I still think it's good to continue to challenge ourselves." Ruiz notes "one clear positive is at the turnstiles." As of last Friday, the four World Football Challenge matches between MLS and European clubs had drawn "an average of 49,715 fans — topped by the Northwest-record crowd of 67,052" that attended the ManU-Sounders game (Tacoma NEWS TRIBUNE, 7/22).
FOR THE GOOD OF THE GAME? ManU also beat the Revolution 4-1 earlier this month, and in Boston, Frank Dell'Apa wrote the "image of the Revolution and Sounders and, by extension, the entire MLS, had been damaged, to say the least." The games are "attracting huge attendance numbers," but MLS is "devaluing itself every time one of its teams get clobbered." Upgrading rosters would be a "big step in bringing MLS up to par, though that is a simplified solution." Teams are allowed to make "unlimited substitutions" during the friendly games, and matching "the top European clubs' benches would take a massive commitment." Dell'Apa: "That is a long way off because the only time MLS gets shown up this badly is when it goes up against this level of competition" (BOSTON GLOBE, 7/26). In L.A., Grahame Jones wrote it is "difficult to tell whether this annual incursion of European and Mexican teams is a good thing or not." It "does give U.S. soccer fans the chance to see in person some of the players they normally can only read about or watch on television." It also "feathers the financial net of MLS and its clubs, large crowds and fat television contracts translating into welcome revenue." But it "does expose the gulf that still exists between the best of MLS and the best of Europe, which in turn keeps fans from going to MLS stadiums and has them tuning in, instead, to the Premier League or Serie A or La Liga." MLS Galaxy coach Bruce Arena said, "It's a lot more difficult in these games — the way they're set up in this format — for the MLS clubs than it is for the visiting teams, because the whole tournament is set up to accommodate them. Our needs are not addressed at all" (L.A. TIMES, 7/24).
Manchester United helping draw sellout crowds to Herbalife World Football Challenge games
MONEY MAKER: SOCCER AMERICA's Paul Gardner noted five MLS clubs are participating in the World Football Challenge that "inserts 14 high-profile games into the already crowded MLS season" because the league is "now a co-organizer along with CAA." It is a "crude case of 'if you can't beat 'em, join 'em.'" The first WFC was held in '09 and featured no MLS teams. It showed that there was "plenty of money to be made by bringing in top foreign teams to play each other and charging pretty fancy prices for the tickets." Gardner: "Helping soccer to succeed in the USA was never part of the CAA agenda. Making money was" (SOCCERAMERICA.com, 7/23). ManU manager Alex Ferguson said, "We've had four trips to the U.S. in the last nine years, and for me, it's not about finances but about creating a fan base for the club, to prepare the team for the season, and that never changes." ManU "has played and easily defeated three MLS teams" thus far. Still, Ferguson said, "They have improved, no doubt, since we first came and played them. But I think an issue they are dealing with is more teams, which means more players, and there's a danger that the talent gets too spread out. I know when you look at the results, we've won comfortably, but the games have been difficult in different ways" (NYTIMES.com, 7/25).
Source: sportsbusinessdaily.com
MLS Urged To Immerse Itself In Hispanic Communities During League's Partner Summit
By Fred Dreier, Staff Writer, SportsBusiness Journal
Published July 27, 2011
Carlos Santiago, President of the Hispanic marketing consultancy firm Santiago Solutions Group, told attendees at the MLS partner summit yesterday that the league and its partners should immerse themselves in the local Hispanic communities in order to engage Spanish-speaking fans. "Take your brand directly to the community, do business with minority-owned firms and contractors," Santiago said. "Hopefully we will also see an American Latino ownership group [in MLS] in the future." Santiago spoke on the Multicultural Marketing panel alongside Univision Senior VP/Client Development Roberto Ruiz, PepsiCo Dir of Cultural Branding Javier Farfan and Bromley Communications Chair & CEO Earnest Bromley. The panel was part of MLS' fourth annual partner summit, which was held at the HUB soccer expo in Manhattan. The event included five panels of guest speakers, and was an invite-only meeting for the league's broadcast, digital, agency and corporate partners, as well as club and league execs. AEG President & CEO and Galaxy Owner Tim Leiweke headlined the day's opening panel alongside Sporting KC Owner Robb Heineman, Real Salt Lake Owner Dave Checketts and Timbers Owner Merritt Paulson. The summit included a discussion on adidas' soccer strategy with the company's Sports Licensed Division President David Baxter, a social media panel and discussion and a panel on player development. MLS previously held the summit in conjunction with the MLS Cup championships, but this year switched it to the All-Star weekend due to the volume of team and partner representatives coming to N.Y. "There's a lot of shared information and best practices discussion at the summit," said SUM VP/Global Sponsorship David Wright. "And you see a lot of B-to-B relationships come out of it too."

Source: SoccerEx Business Daily