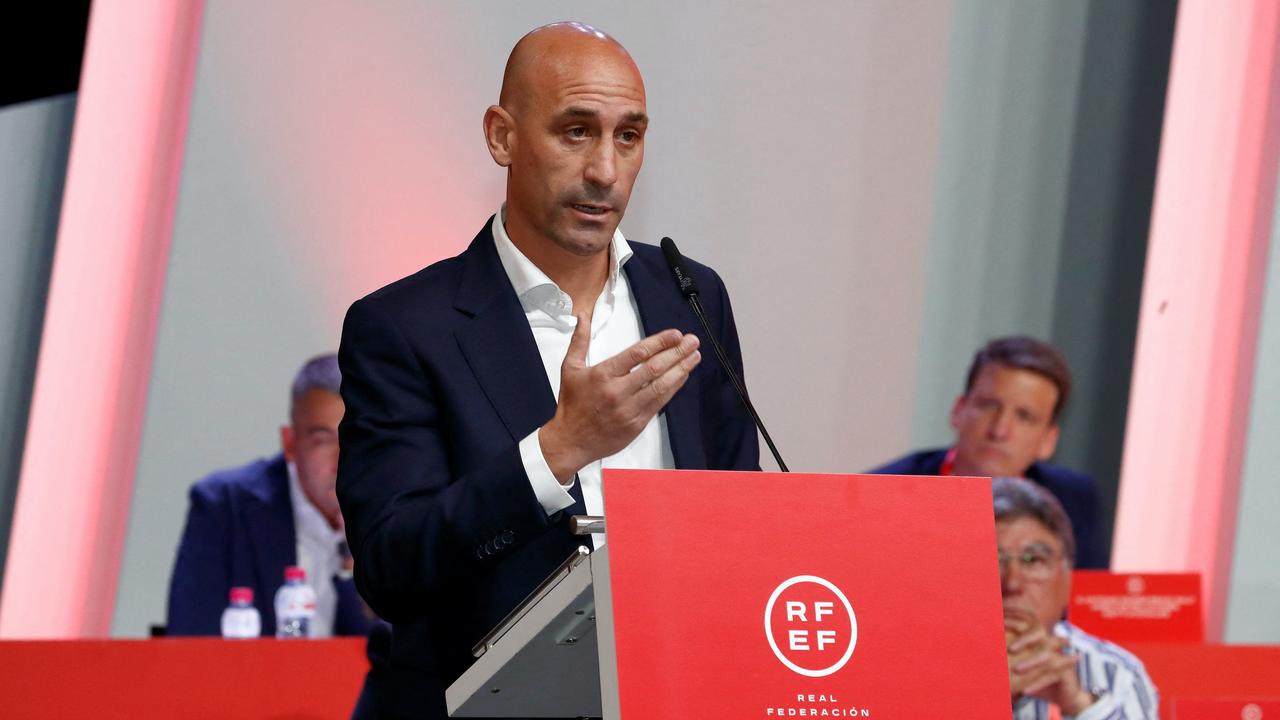 This article was last updated on September 1, 2023
Canada:

Oye! Times readers Get FREE $30 to spend on Amazon, Walmart…
USA:

Oye! Times readers Get FREE $30 to spend on Amazon, Walmart…
Luis de la Fuente condemns Rubiales' actions
National coach Luis de la Fuente of the Spanish men's team expresses regret for applauding Luis Rubiales' controversial speech. De la Fuente made it clear that he condemns the kiss that Rubiales planted on football star Jennifer Hermoso.
During the World Cup final player ceremony, Rubiales, the 46-year-old association chairman, kissed Hermoso on the mouth. While Rubiales apologized for his actions, he made it clear in his speech at a union meeting that he would not step down. As a result, FIFA has suspended Rubiales for 90 days.
De la Fuente's applause during the speech seemed to indicate support for Rubiales. However, the national coach addressed the incident during a press conference on Friday, expressing his remorse. "I have received a lot of criticism, and it is well-deserved. I apologize for my actions," stated De la Fuente.
"Rubiales' actions do not align with my own morals and values. I always strive for equality and respect. Throughout my career, I have maintained an impeccable conduct. Jennifer and the other players should not be held responsible for any of this," De la Fuente added.
De la Fuente's commitment to staying
Despite his regret for applauding, De la Fuente does not believe he needs to step down. "I made a mistake, and I apologize for it. It was a grave error. If I could turn back time, I would," he admitted.
The 62-year-old coach described the previous association meeting as an unreal experience. "We thought the chairman would resign. The situation overwhelmed me. It was highly uncomfortable," De la Fuente shared.
"I don't condone anything. There is no justification for it," De la Fuente emphasized. "I am only trying to explain the circumstances we were in. It was truly overwhelming."
Earlier, Jorge Vilda, the national coach of the Spanish football players, also faced criticism for applauding Rubiales' speech. Vilda found the chairman's behavior unacceptable. "It goes against the values ​​that I hold dear in life, in sport, and in football," he declared.
The aftermath of Rubiales' actions
Rubiales' kiss on Hermoso's mouth caused significant controversy and outrage. While Rubiales delivered an apology, the consequences have been severe.
In addition to his 90-day suspension from FIFA, Rubiales is facing widespread condemnation for his behavior. Many believe that his actions were inappropriate and unprofessional, setting a bad example for others in positions of authority.
The incident has also sparked conversations about gender equality and respect within the football community. Players, coaches, and fans are calling for more significant efforts to ensure equality and respect for all individuals involved in the sport.
The Spanish Football Association's response
The Spanish Football Association (RFEF) has not yet made an official statement regarding Rubiales' future as association chairman. However, it is expected that there will be discussions and evaluations to determine the appropriate course of action.
The RFEF has a responsibility to address this issue seriously and take necessary measures to uphold the values and integrity of the sport. The incident highlights the importance of promoting equality, respect, and professionalism within all levels of football.
Moving forward
As the fallout from Rubiales' actions continues, it is essential for the Spanish football community to address the underlying issues that have been brought to light by this incident.
Efforts must be made to ensure that incidents like this do not happen again in the future. Education, training, and strict codes of conduct can help create a more inclusive and respectful environment within football.
All individuals in positions of authority within the sport should be held to the highest standards of behavior, treating all players with dignity and respect regardless of gender.
By confronting the challenges and implementing necessary changes, Spanish football can move forward and become a shining example of equality and respect in the world of sports.
You can publish this article on your website as long as you provide a link back to this page.