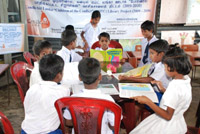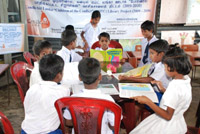 Sri Lanka's civil war ended in May, the battle at Nandikadal lagoon near Vellamulli Vaikal saw the defeat of the LTTE leadership. The thirty year old bloodshed was over and people celebrated and heralded the dawn of a better day. Hopes rose as high as the sky and with good reason and more, and we all waited to drive down Bullers Road and maybe make a trip along the A9 to places that we have seen years ago.
Peace, that is the word, sacred and serene to all those who have endured and suffered terror and turmoil.
The guns are silent now and the path is cleared for the people of Lanka to search for peace. Of course the pit-falls are there, embodied by the vociferous few who take pleasure in fanning the fires of discontentment and re-kindle the hatred that had festered us for three decades. The foibles of politics and power-hunger do give many a proselyte the platform to play to the galleries. They do find the lamebrains who listen with scant reasoning except racial revulsion, and this is common to both parties, from the by lanes of Wellawatta to the kadamandiya in Balapitiya.
Peace can be chartered by the powers that be but it is the individuals represented by you and me who need to change our thinking.
If we hope to see the coming years where harmony reigns, then the effort must be from us, the individuals.
Peace begins with me
, that should be the thought and it should ideally ring across all racial barriers and re-align the moral compasses of everyone who consider themselves the inheritors of this paradise home.
Currently I am associated with a project to open 26 small libraries, stretching from Velvatathurai to Kalmunai. Yes, peace begins with me. I believe the words and I need to act and tell others too. I need to ask you to spare a thought and ponder over the ideal that peace begins with me.

I do not know who will contest the next Presidential election or when the people in camps will go home. Such things are beyond me and I leave them to be sorted out by people who seem to know better. But I can go with my team to Mylampaveli and Chulipuram and 24 other similar locations and extend our hands and say we want to be friends. Already many have joined this simple project we named COTC, Children of the Conflict. Total strangers have walked in to work with the organisation CandleAid Lanka (formerly AFLAC –
www.candleaid.org
) and have blended beautifully to bring the project to a stage that we are ready to launch. Books are bought and packaged to be sent to the North and East to be gifted in simple ceremonies. The funding has come mainly from the Sri Lankan Diaspora, Tamils, Sinhalese, Muslims and Burghers, individuals and teams, each picking a library and sponsoring, believing in the slogan "Peace begins with me."
It does not stop there. All these libraries will be linked to schools and let me give it straight, non Tamil schools from all over the island in a project called "Uniting children." Already Methodist College and Panthiya Maha Vidyalaya from Matugama have come forward, with their Principals leading the parade. A Thera from Kakirawa is getting ready to build at least an "A -danda" across the racial divisions by getting his students in Ipalogama to team up with a school in Morokottachenai. Yes, peace begins with me is simple, but the ripples can and will reach even beyond expectations to make us walk as one nation.
I only hope none would flag us down. Roads are meant to be travelled, pot holes or not.

When the camps opened in Vauniya, everybody was off the blocks to sprint and assist in Samaritanic sentiment. So much was done by individuals and organisations, cheers to them. But, that is the IDP; apart from them there is an entire population that needs the olive branch and be partners in a search for racial harmony. Governments can implement policy, but it is the individual assistance that is needed to rebuild what is shattered, to extend hands to people who have suffered. If their kith and kin are shouting foul play from Montreal, the best stance is to ignore. They can carry their placards and do their lobbying. It is the same you hear at times from the southern side too, morons and their myrmidons voicing empty rhetoric of race and hate that only widens the existing divisions.
What has all that got to do with a little child getting a book in Nelukulam?
Ex Air Force officers from Melbourne came forward to fund a library of this project in Tiriyai. They, on a sad day, had fought on the beaches near Pirate's Cove and some did not return. Now they go back with books, extending a warm hand of friendship, maybe to children of former adversaries. A Tamil gentleman from London wrote to us and is refurbishing a school for visually handicapped and hearing impaired children in Kaithady. He says he sang carols there as a kid. There are many more wonderful gestures such as these which make us believe we are doing something right.
The work done in preparation to open 26 libraries did have its demands. There were many hurdles, and they were cleared by the combined effort of people who are not politically connected, but both ethnically and religiously different, yet in one voice as Sri Lankans.

They all had one thing in common, to do something to bring the races together. "Peace begins with me" was the clarion call.

One day when a child from Vaddukoddai reads a book gifted by a child from Matugama, and writes a post card that speaks of friendship; it would be the result originated from the ones who believed in the simplicity of "peace begins with me."
It takes two to fight, two to tango and two to shake hands and become friends.
Capt Elmo Jayawardena can be reached at

elmojay@sltnet.lk