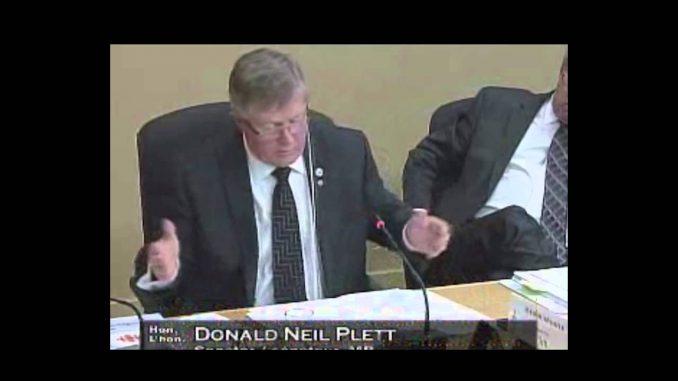 CBC President Hubert Lacroix's cover story for claiming $30,00 in double dipping expenses is as believable as Mike Duffy's PEI residency, in other words unbelievable.
By Stephen Pate – The more I research the story about Hubert Lacroix and his expense "mistake", the less I believe his explanation. Do you believe him?
How did a man who claims he is an expert on corporate governance misread the plain English rules about his pay? Perhaps entitlement?
Why did the President of the CBC, after negotiating $18,000 in per diem, collect little receipts for $10 expenses and claim another $5,000 per diem for meals, perhaps entitlement?
Why did the CBC President take 4 months to repay the double dipping expenses and 5 more months to tell the public, entitlement again?
Lacroix's explanation is simply unbelievable until it has been investigated thoroughly by an independent board of inquiry. It is possible that Mr. Lacroix is not as innocent as he claims. He certainly has lost the trust of many Canadians who deserve a more thorough explanation.
Entitlement is old news for Canadian taxpayers. Bev Oda's orange juice, first class flights for Cabinet Ministers and their families, Pamela Wallin's Toronto condo, Mike Duffy's PEI cottage – they are just a few examples of public officials who think their appointments entitle them to dip into the taxpayer's pockets when they wish. Canadian Politicians — A culture of entitlement
Hidden CBC By-law clause?
CBC President Hubert Lacroix said the rules on his expense entitlement were obscure, like does Pamela Wallin live in Wadena or her Toronto condo. In fact, you and I can read the CBC Bylaw and find the so-called "obscure" Schedule K is a few minutes.
CBC reported the cover story if how Lacroix was overpaid $5,000 annually for 6 years. "Auditors found that nobody was aware of the rule, known as section nine of Schedule K. The audit report seemed to suggest the rule …dates back to 1992." CBC president Hubert Lacroix repays $30K in expenses
That is simply not true. Like all corporations, the CBC has By-laws that state the rules. The Directors of the CBC are paid to read those rules and direct the President or CEO to enforce them. If the executives and managers are not aware of the rules, they should be fired. Canadian taxpayers deserve real governance from the CBC Board.
I Googled "CBC By-Laws" and here's what it says about Lacroix's compensation. Lacroix is a director as well as president.
"Each Director shall be paid fees and expenses in accordance with Schedule "K" attached hereto, and forming part of these By-Laws."
Well that's clear – check Schedule K, which I could not find on the same web page. Maybe Lacroix was telling the truth: Schedule K was some obscure document unknown to directors, auditors and lawyers. Not true again: I found it with a simple Google search. Check it out here – CBC Bylaws Schedule K.
Sec 9 says "The President is entitled to be paid reasonable travel and living expenses incurred by him/her on the business of the Corporation at any place other than the Head Office of the Corporation."
In other words, Lacroix was not allowed to claim travel in Ottawa, which is the head office of the CBC. If you and I can understand that, how does a lawyer with a specialization in corporate governance get mixed up?
CBC says that Mr. Lacroix is a senior lawyer with experience in corporate governance. "Mr. Lacroix was a Senior Partner at McCarthy Tétrault…for 20 years. His practice was concentrated in business law, mostly in mergers and acquisitions of public companies, and securities." CBC Friends of CBC emphasize Lacroix's governance experience "A lawyer for 30 years, Lacroix's legal specialties include … securities and corporate governance."
"Corporate governance refers to the system by which corporations are directed and controlled. The governance structure specifies…specifies the rules and procedures for making decisions in corporate affairs." Wikipedia When I was on the Board of a public company, I got regular legal advice on governance, especially on the limitations of my authority.
A lawyer, like Lacroix, with expertise in governance who can't file his expense claims properly has made a fundamental error in judgement that probably goes to ethics. Perhaps he has fallen victim to the sense of entitlement. People of integrity who make ethical mistakes do the ethical thing and resign like Nigel Wright. "In light of the controversy surrounding my handling of matters involving Senator Duffy, the Prime Minister has accepted my resignation as Chief of Staff.
Why Is The CBC President Claiming Coffee expenses?
Review Lacroix's expense claims. There full of petty cash items $10, $15, and $30 items including indemnité quotidienne- souper (daily living allowance for dinner), and frais divers (miscellaneous chargers). What kind of $400,000-a-year busy executive has the time to collect $10 receipts and file for them? I suggest it is not someone who is terribly busy but it does indicate an interest in entitlements.
The other thing that does not ring true is that Lacroix used the French word for per diem on his claims – indemnité quotidienne – with the full knowledge he was already being paid $1,500 for the same thing. The only people who didn't have know about Lacroix's special $1,500 a month were apparently the Board, the accounting staff, his senior executives and Deloitte and Touche or whoever the external auditors were.
If no one at CBC or the auditors knew the details of his contract and pay it is a good argument against the culture of secrecy the Lacroix enforces. Lacroix has argued in court against Federal access to information laws. CBC fights for information, refuses to share. Despite losing in court, Lacroix was still withholding information last week from the Senate Committee.
Perhaps everyone at the CBC and their board was afraid of Lacroix due to his title President and his legal attitude. In the Senate testimony he does not seem to be a humble person who listens, rather a man tells people what is what. Taxpayers In Canada Have The Right To Know
CBC Board of Directors Did Not Govern
The CBC Bylaw about the President's expenses is so clear that I cannot believe the Board let those expenses pass. CBC policy for more than 20 years has been that the President does not qualify for any travel in and around the CBC headquarters in Ottawa. (CBC Bylaws, Schedule K, Section 9)
There are several explanations. The CBC Board may not have been aware of the $18,000 in other compensation granted to Lacroix. They may have been intimidated by Lacroix, who has a self-assured dominant personality. Or the CBC Board may have been asleep at the wheel. Canadians deserve an independent investigation to decide and report how the system failed them. Mr. Lacroix's explanation and assurances are simply not enough considering he was the one with the error, intentional or not.
Gregory Thomas, head of the Canadian Taxpayers' Federation, said it's problematic that nobody knew about the rules adopted by the board.
"I think heads need to roll in the executive suite," Thomas said.
"Any corporation where the board makes a decision and the executives don't hear about it, that system's broken. And the board who represent the shareholders, which is Canadians, they need to demand action. How come [the] internal audit [section] didn't know? How come people responsible for administering the expenses didn't know?" CBC
There is more to this story and we will keep in it until the full truth is known. Follow me on Twitter at @sdpate or on Facebook at NJN Network and OyeTimes.
By Stephen Pate, NJN Network