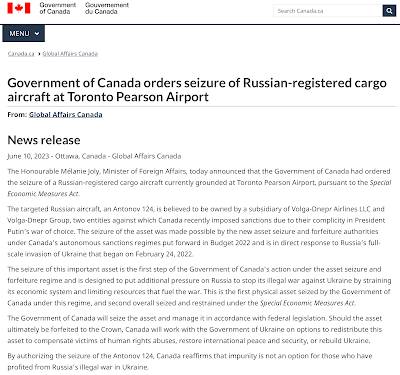 This article was last updated on June 16, 2023
Canada:

Oye! Times readers Get FREE $30 to spend on Amazon, Walmart…
USA:

Oye! Times readers Get FREE $30 to spend on Amazon, Walmart…
The Reciprocity Principle – Is Canada Ready for Russia's Revenge?
Canada's Minister of Foreign Affairs, the barely competent Justin Trudeau acolyte Melanie Joly, who  made this announcement on June 10, 2023 while her boss (Chrystia Freeland?_ was in Kiev, promising another $500 million of Canadians' taxpayers dollars to Ukraine: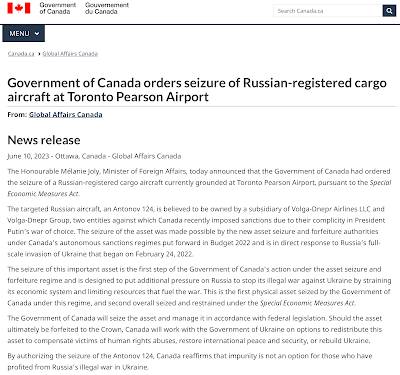 Here are quotes about the seizure from Ms. Joly and another of her inept Ministerial peers:
"Today, Canada is sending a clear message to the Russian regime that there will be nowhere left to hide for those who support and profit from the Kremlin's war of aggression. Canada has been there to support Ukraine's fight for freedom since day one and we will continue to be there through their victory to aid in their reconstruction efforts."
– Mélanie Joly, Minister of Foreign Affairs 
"Our Government is unwavering in our commitment to Ukraine's sovereignty and against Russia's illegal invasion. From the beginning we have stood on the side of the Ukrainian people, and implemented a NOTAM against all Russian-owned and operated flights into Canada. Today, we are demonstrating that Russia's actions continue to have consequences. We stand with Ukraine and will take any and all necessary actions, including this seizure, to put pressure on President Putin" 
– Omar Alghabra, Minister of Transport  
Note the following quote from the news release:
"Should the asset ultimately be forfeited to the Crown, Canada will work with the Government of Ukraine on options to redistribute this asset to compensate victims of human rights abuses, restore international peace and security, or rebuild Ukraine."
Restoring peace by stealing aircraft.  That's going to happen.
Here is the original story about the plane from March 2022:

"An Antonov An-124 cargo aircraft carrying Covid-19 test kits ordered by the Government of Canada has been grounded at Toronto's Pearson Airport as part of the international sanctions imposed on Russia after the invasion of Ukraine.
Like most of the European countries, Canada and the United States have issued executive orders closing their airspace to planes owned or operated by Russian companies…
The Volga-Dnepr Antonov that landed in Toronto on Saturday 27 February at 07:00 was carrying rapid antigen tests ordered from China by the Canadian government. The aircraft, registered RA-82078, departed from an undisclosed airport in China on flight VI5854, stopping at Khabarovsk in Russia's far east and in Anchorage before arriving in Toronto.
An exemption will be required for it to take to the skies again."
Here's more coverage on the grounding of the massive Antonov 124-100 Russian-registered cargo plane owned by Volga-Dnepr Airline which operates 11 Antonov-124 aircraft:

As one would expect, Russia has weighed in on the seizure and threatened sale of a Russian-registered aircraft:

Here are some quotes from Maria Zhakarova, spokeswoman for the Ministry of Foreign Affairs of the Russia Federation with my bolds:
"During his trip to Kiev, Prime Minister of Canada Justin Trudeau announced the decision to launch the procedure for confiscating an Antonov An-124 cargo aircraft owned by the Russian company Volga-Dnepr, citing Canadian sanctions legislation. The aircraft has been illegally detained at the Toronto airport since February 2022. We perceive this act as cynical and shameless theft.
The administration of Justin Trudeau continues the tradition of its predecessors who granted political asylum to Nazi accomplices from among diehard pro-Bandera supporters. Acting on US orders, it motivates Ukrainian authorities to wage a war against Russia until the last Ukrainian. They pledge military and financial assistance, which, in reality, has not been all that generous, and promise to reward the Ukrainians for their zeal with stolen Russian property.
The An-124 aircraft, which delivered Covid-19 medications to Toronto under a humanitarian project at the request of the Canadian government, was prevented from leaving the airport and was essentially taken hostage. It now turns out that Canadian authorities had a far-reaching aim in mind: to steal this unique aircraft and to hand it over to their clients in Kiev.
The Russian side warns that the practical implementation of this decision will entail the most serious repercussions for Russian-Canadian relations, which are already on the verge of being severed through the fault of the official Ottawa. Any attempts to cover up this illegal and shameful act by judicial procedures will not impart even a semblance of legitimacy to it. We reserve the right to retaliate in line with the reciprocity principle."
The reciprocity principle – we pay back what we received.
The other shoe will most certainly drop.  Russia does not bluff, it acts.  Will Canada and the Trudeau government be ready for the fall-out, particularly given the growing strength of the BRICS alliance?  I rather doubt it.
You can publish this article on your website as long as you provide a link back to this page.