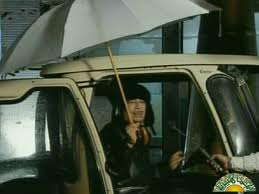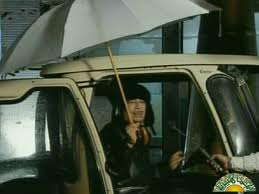 Libyan leader Col Muammar Gaddafi refuses to leave. He has brought glory to Libya and will remain at the head of the revolution. Cowards and traitors want to humiliate Libyans and portray the country as a place of chaos. They are cockroaches.
In his first major speech since widespread anti-government protests swept Libya, Gaddafi pulled out all the stops in defiantly rallying against any and all who would thwart his rule. He has been in power for four decades and has vowed to not leave his country and to die a martyr. Some, it would seem, would like to arrange that.
People in the street are being subject to a brutal repression by Gaddafi forces. Rights groups have estimated that over 300 people (some reports say 500) have been killed so far in attacks on civilians that have even included bombings by air force planes and shootings by foreign mercenaries. Like in Tunisia and Egypt, amateurs using cellphones are getting the message out to the rest of the world via pictures and video clips of the mayhem in the streets.
The unrest, though, is not restricted to the people in the streets. VOA News has listed various Libyan diplomats who have severed ties with their own country to protest the repression of the protesters. These include Ali Aujali, Libyan Ambassador to the United States plus the ambassadors to India, Indonesia, a senior diplomat to China and several other envoys. Libya's embassies in Malaysia and Australia said they no longer represent Mr. Gaddafi. His Justice Minister Mustafa Abdel-Jalil resigned Monday in protest at the crackdown, while two Libyan fighter pilots flew their jets to Malta, saying they had defected after being ordered to attack demonstrators.
Newspapers are stating that several countries including France, Britain and the United States are sending transportation, both planes and boats, to assist their nationals in getting out of Libya. As the situation deteriorates, this is going to become more problematic. Who exactly is in charge?
The Washington Post is reporting on the appearance of Ali Aujali on ABC's Good Morning America and quoted him as saying, "This regime is shaking, and this is the time to get rid of him. The people are being kill[ed] in a brutal way. The people, they are armless, and the regime, they have all kind of weapons." Aujali went on to explain that anti-government activists have taken control in the eastern part of Libya, an oil-rich North African nation where dissent and free expression have long been prohibited. The western part of the country, including the capital, Tripoli, remain in Gaddafi's hands.
The Post also reported that other tribal leaders in Libya are condemning Gaddafi for his attacks against civilians with some of them urging revolt. Apparently influential Muslim cleric Yusuf al-Qaradawi has issued a fatwa to kill Gaddafi urging any Libyan soldier to do so if they have the opportunity.
I've heard Venezuela is nice this time of year.
Euronews – Feb 22/2011
Libya teeters on the brink
Latest amateur pictures from Tripoli and Benghazi show how the east of Libya is in uproar as its leader Colonel Gadaffi appears to be losing his grip on power. The revolt against him seems to be gaining strength by the hour, but it is still unclear if the people will prevail. Fighting has spread to the capital Tripoli, and Human Rights Watch now estimates the numbers of people killed to be as many as 400, although heavy rain this morning is keeping things calmer.
Euronews – Feb 22/2011
Gaddafi still in control in Tripoli as unrest grows
A police station in Tobruk is set ablaze by anti-government protesters – scenes of unrest have spread across Libya with the east of the country appearing more and more to be under the control of protesters. But international condemnation is growing at the reported violence being meted out against demonstrators in Tripoli. A flag of liberation may have been flown in Benghazi, but elsewhere Gaddafi's forces are continuing to fight an increasingly bloody battle to keep him in power with shootings and bombings.
BBC: video of Gaddafi's speech with English translation
The BBC has provided the following overview of the country:
Col Muammar Gaddafi has led since 1969
Population 6.5m; land area 1.77m sq km, much of it desert
Population with median age of 24.2, and a literacy rate of 88%
Gross national income per head: $12,020 (World Bank 2009)
Click HERE to read more from William Belle
Article viewed at: Oye! Times at www.oyetimes.com