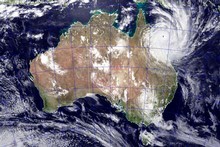 Cyclone Yasi has grown from a category 3 storm to category 5, the highest on the Saffir–Simpson Hurricane Scale. Estimates vary but predictions put the winds at 230 km/h (143 mph) with gusts reaching 300 km/h (186 mph). The storm is to make landfall somewhere along a 400-mile stretch between Cairns and Bowen at midnight Wednesday local time or Wednesday at 9am EST, February 2. On top of the flooding Australia has suffered through over the past few weeks, this storm represents a double whammy to the people of Queensland.
Reports told of the first of the massive storm winds howling throughout Cairns as night fell Wednesday. The worst winds were predicted to last up to four hours with blustery conditions and heavy rain lasting for 24 hours. The Bureau of Meteorology said that the storm was expected to lash the coast with up to 700 millimetres of rain and send tidal surges deeper inland than usual. At risk according to the bureau was a band about 240 kilometres long between the tourist city of Cairns and the sugar cane-growing town of Ingham. Experts said that it was unclear what the damage the Great Barrier Reef would sustain.
Officials have been warning people for days to board or tape up their windows and to stock up on bottled water and food. People in low-lying or poorly protected areas were instructed to move to safer ground with family or friends or move to evacuation centers.
Queensland Premier Anna Bligh was quoted as saying, "It's such a big storm — it's a monster, killer storm," adding that the only previous storm measured in the state at such strength was in 1918. "This impact is likely to be more life threatening than any experienced during recent generations."
The latest reports say that already 37,000 people are without power with almost a half of these being in Innisfail and Cardwell. Premier Bligh has warned that there are major problems with power transmission right across north Queensland. North Queensland relies on power generation from Central Queensland and links of power transmission through North Queensland. Cyclone Larry apparently knocked out six coastal transmission towers in 2006.
What is Category 5?
We hear news reports calling a storm a "category three" or a "category 5" storm but just what do those numbers mean? In North America, meteorologists use the
Saffir–Simpson Hurricane Scale
where the numbers refer to the strength of the winds and the subsequent damage to be caused by the storm. Hurricane Katrina which hit New Orleans was a category 5 with maximum sustained winds of 175 mph (280 km/h).
Different parts of the globe use slightly different measurement systems and Australia is no exception having
its own scale
for measuring tropical cyclones. Don't forget that hurricane seems to be the term used in for the North Atlantic while cyclone is used for the South Pacific.
In Australia, category five on their scale means sustained winds of 200 km/h or greater with gusts over 280 km/h. Reports for Yasi are putting the winds at 230 km/h (143 mph) with gusts reaching 300 km/h (186 mph).
NZ Hearld TV – Fqeb 1/2011
Cyclone Yasi approaches Queensland
Philip Duncan of WeatherWatch.co.nz on how Cyclone Yasi developed and what will happen when it hits Australia.
http://www.youtube.com/watch?v=zZ7F8i_haok
Click
HERE
to read more from William Belle.
References
Hurricanes, typhoons and tropical cyclones are different names for the same type of storm. A tropical cyclone is called a hurricane in the North Atlantic Ocean, South Pacific Ocean, or the Northeast Pacific Ocean on the eastern side of the dateline. A typhoon occurs in the Northwest Pacific Ocean west of the dateline. In other parts of the world, these storms are called severe tropical cyclones.
Any Tropical Cyclone that forms to the east of 90°E in the Southern Hemisphere, is monitored by either the Australian Bureau of Meteorology and or the Regional Specialized Meteorological Center in Nadi, Fiji. Both warning centres use the Australian tropical cyclone intensity scale, which measures tropical cyclones using a six category system. It is based on estimated maximum wind gusts, which are a further 30-40% stronger than the 10-minute average sustained winds. This is different from the Saffir-Simpson Hurricane Scale, which uses 1-Minute Maximum Sustained winds.
When a Tropical Cyclone that has wind speeds below 35 knots (65 km/h, 40 mph) forms east of 160°E it is labelled as either a Tropical Disturbance or a Tropical Depression by RSMC Nadi.If it forms to the west of 160°E it is labelled as a Tropical Low by the Australian Bureau of Meteorology. However if it forms to the north of 10°S and between 90°E to 125°E the low is labelled as a Tropical Depression by the Tropical Cyclone Warning Center in Jakarta, Indonesia.
If a tropical depression should reach 35 knots (65 km/h, 40 mph), it will be named by the TCWC or RSMC and be classified as a Tropical Cyclone. Should the cyclone intensify further reaching maximum sustained winds of 65 knots (145 km/h, 75 mph) then the cyclone will be designated as a Category Three Severe Tropical Cyclone. A Severe Tropical Cyclone will be classified as a Category Five Severe Tropical Cyclone should the cyclone's maximum sustained wind speed be greater than 110 Knots (200 km/h, 130 mph) and gusts be above 150 knots (280 km/h, 175 mph).