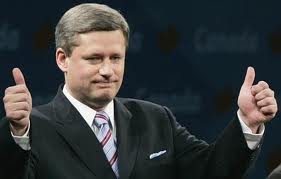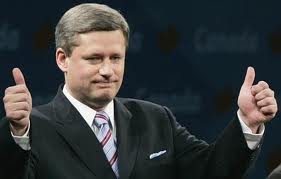 As of this writing, we have 18 days left until the next federal election to be held on May 2. The final two weeks or so for the candidates to convince us they are the next best thing to sliced bread. Unless something remarkable happens between now and then, something like the second coming, we are going to have another Conservative minority government. Canadian politics have been quite odd the past few years. Stephen is winning, sort of, not because he's good or desirable in the eyes of the electorate, but because he's the only one who seems to offer any semblance of a cohesive platform. Every other party is either too small or in the case of the Liberals, is completely in disarray. On May 3, we are all going to wake up to more of the same.
Harper will go down in history
Yes, Stephen will go down in history, but not for the reasons he would like. Minority governments? Proroguing parliament? How about this latest non-confidence motion with its charge of contempt? The Toronto Star (Apr 13/2011) wrote:
The bottom line of all this is we're having an election because a majority of MPs voted in favour of a motion that said confidence had been lost in the government, because a committee had found it in contempt.
A Canadian government has never before been found in contempt but Harper doesn't give much weight to a finding that might go down in the history books.
He tends to shrug it off, as he did during the debate: "First of all, everybody should realize the so-called contempt motion Mr. Ignatieff speaks of is not a ruling of a court or a ruling of the Speaker, it was simply a case of the other three parties outvoting us. We don't agree with that."
Jean Chrétien? Brian Mulroney? Pierre Trudeau? I may not have agreed with everything they did, but at least we had a government in power with power. Somehow this all seems just a tad absurd.
The Debates
My only comment comes from the Vancouver Sun who reported this comedic point in the polling done just after the French debates.
In other good news for Layton, he was chosen as by far the most likable of the party leaders — 69 per cent of respondents said so after the debate.
And, he can apparently keep the moustache. The NDP leader was also chosen as the "most visually attractive" of the leaders, with 38 per cent saying they thought he was the best-looking of the lot.
Likeable? Visually attractive? I'm sorry, in light of everything else, this is just too funny. I am reminded of the old joke about somebody who has no redeeming qualities whatsoever and somebody else, stuck for something good to say about them, comes up with, "Nice suit." Isn't this like a beauty pageant with its Miss Congeniality category?
Controversies
Wikipedia has listed a number of items which certainly raise an eyebrow.
Raymond Sturgeon, the Conservative candidate for the federal riding of Algoma—Manitoulin—Kapuskasing was until December 2010 a lobbyist for Lockheed Martin Aeronautics, the manufacturer of the Lockheed Martin F-35 Lightning II fighter plane – which the Canadian government agreed to purchase in July 2010.
A former Conservative Party staffer who is under investigation by the Royal Canadian Mounted Police, Sebastien Togneri, was found to be volunteering for Edmonton—Strathcona Conservative candidate Ryan Hastman. After news of this was released by The Canadian Press, he was removed from the campaign – although his mere involvement in political affairs was criticized by opposition leaders.
Yvon Lévesque, the Bloc Québécois candidate and MP for the riding of Abitibi—Baie-James—Nunavik—Eeyou, was quoted as saying that "Certain voters will not choose the New Democratic Party now that they're running an aboriginal candidate" – referring to his opponent, New Democratic Party candidate Roméo Saganash.
Cheryl Gallant, the Conservative MP for Renfrew—Nipissing—Pembroke compared Michael Ignatieff to Libyan dictator Gaddafi. She later apologized.
On March 18, Mark Strahl (son of incumbent Conservative MP Chuck Strahl) was nominated as the candidate in his father's riding of Chilliwack—Fraser Canyon. The nomination process, which is usually four weeks, lasted only a week. During the nomination Mark Strahl was endorsed by Preston Manning, who said "Mark Strahl – by virtue of his family background… is well prepared for service in the House of Commons." This was criticized by members of the Conservative party: former Chilliwack city councillor Casey Langbroek said most Conservative party members from the riding were upset, and Alex Moens said "High public office should not be like a family business, where it's passed on from father to son."
At a tightly controlled event aimed at immigrant communities in Brampton, Ontario, Mr. Harper used the phrase "you people" to attendees, implying they were categorically different from he or his party or government. Mr. Ignatieff and Mr. Layton immediately criticized Mr. Harper and pointed to his record of reducing family reunification quotas for immigration, and criminal justice policies that disadvantage non-white populations.
Two veterans, including Jim Lowther of the Veterans Emergency Transition Team were not permitted to enter a Harper Halifax news conference nor even watch his speech.
During a Conservative rally in London, Ontario an RCMP officer asked two students to leave the event for having supposed ties to the Liberal party. One of the students later complained that the only reason she could think of for being removed was the fact she had a Facebook profile photo showing her posing for a picture with Michael Ignatieff, after having previously attended an NDP and Liberal rally. Their forced removal was immediately criticized by both Jack Layton and Ignatieff.
On April 6, André Forbes, the Liberal candidate for the rural Quebec riding of Manicouagan, was criticized by the NDP for comments he had made regarding First Nations and Innu people, as well as being the founder of the white supremacist group l'Association des Droits des Blancs (literally the Association for White Rights), despite being Métis himself. Liberal leader Michael Ignatieff stated that he was "shocked" by the Forbes comments and that "if he really said that, it's not possible to remain a candidate for the Liberal Party of Canada". Later the same day, Ignatieff announced that Forbes was no longer the Liberal candidate for Manicouagan.
Liberal Party leader Michael Ignatieff's wife, Zsuzsanna Zsohar, came under attack from conservative lobby group National Citizens Coalition president Peter Coleman over the fact that she is not yet a Canadian citizen, and will therefore be unable to vote for her husband on May 2. Zsohar explained in the interview that she, like any other immigrant arriving in Canada, was waiting in line for her Citizenship application to be accepted and that the campaign was not about her.
The Conservative Party came under heavy fire on April 11th when a draft report for the G8 summit was leaked to the Canadian Press, which indicated that the Tories mislead the Parliament of Canada to seek approval for $50 million tax dollars to be spread on dubious projects, which over half of it was spent on the riding of Parry Sound—Muskoka – Tony Clement's riding. It prompted calls from the other leaders to release the report now, but the Auditor General of Canada, Sheila Fraser; told reporters the rules forbid her to release it because she has to release it to the Speaker of the House of Commons.
liberalvideo – Apr 12/2011
Health Risk
"Stephen Harper is demanding absolute power. Can you trust him with your health care? He said the law that protects universal health care should be scrapped. And he's open to American style private for profit health care. Last year Harper's finance minister called for massive cuts to increases in health spending. Now Harper has a risky plan to cut 11 billion dollars from government spending. Where would Harper's cuts leave your family's health? The stakes are too high. Vote Liberal. "
http://www.youtube.com/watch?v=CP1qHX7qOeg
liberalvideo – Apr 12/2011
It's time to stop the Stephen Harper Gravy Train
It's the last straw for Canadian taxpayers tired of Conservative waste before they vote on May 2. Media are reporting Conservatives mislead Parliament, and may have broken the law, by siphoning funds designated for border security into an unusual $50-million G8 fund that lavished taxpayer money on dubious projects in a single Conservative minister's riding, some 350 kilometres from the U.S. border.
http://www.youtube.com/watch?v=qi86pDt30D4
Taking it all in perspective
For those of you who read my articles in Oye! Times, you know I've written about the political stalemate in the Ivory Coast, the war in Libya, and the uprising in Egypt. I have amusingly thought of a situation where Harper, like Laurent Gbagbo, refuses to accept the outcome of the election. Some would argue that Stephen has been doing exactly that, but I would like to add that when the tally is finally counted, thousands have probably been killed in the Ivory Coast over the past four months or so since their election. Thousands. Can you imagine that happening here in Canada? Harper is not my favourite; yes, he prorogued parliament, but unlike Gbagbo, he didn't kill people to cling to power. Harper could never take over the country as a dictator like Gaddafi even though his detractors may portray him as one. Yes, the Conservatives have probably lined a few pockets during the G8 and G20 summits but nothing on the scale of Mubarak and company who pilfered billions, yes, billions from the state coffers. Canada isn't perfect, but I'd rather be here than any other place in the world. – Okay, except for maybe a week in Punta Cana in the winter.
References
Wikipedia: Canadian federal election, 2011
The 2011 Canadian federal election (more formally, the 41st Canadian General Election) will be held on Monday, May 2, 2011 to elect members to the Canadian House of Commons of the 41st Canadian Parliament.
The writs of election were issued by Governor General David Johnston on March 26, at the request of Prime Minister Stephen Harper, whose Conservative government had been defeated in the House of Commons on a motion of non-confidence. The motion declared the government to be in contempt of Parliament, a first for a national government anywhere in the Commonwealth of Nations.
Wikipedia: Opinion polling in the Canadian federal election, 2011
Nanos Research Poll – April 13, 2011
Conservative = 38.9%
Liberal = 31.1%
NDP = 18.3%
Undecided = 15.2%
Click HERE to read more from William Belle
Article viewed at: Oye! Times at www.oyetimes.com