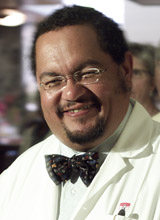 Dr. Arthur Porter, Canada's top spy watchdog resigned on Thursday. Porter was recently working out a business deal with an infamous international lobbyist and his own close ties to the president of Sierra Leone.
Apparently, Porter was recently introduced to a Montreal company, Dickens & Madsen, by an associate who told him that the firm had opportunities to secure infrastructure backing in an African country, Sierra Leone, which is wracked by a decade old civil war.
Prime Minister Stephen Harper said: "Dr. Porter has submitted his resignation to me, and I have accepted it, effective immediately."
Porter is also an oncologist and hospital administrator who was federally appointed chairman of the Security and Intelligence Review Committee. The committee acts as a watchdog of the Canadian Security Intelligence Service.
"That is a complete conflict of interest and it raises the specter of the potential for foreign influence in Canadian affairs — sensitive Canadian affairs," said Wesley Wark, a specialist in the history of intelligence services and national security policy at the University of Toronto. "The simple fact that someone is on the one hand serving in a very sensitive Canadian position, and on the other hand holds an appointment — however honorific — for a foreign government, is just not 'on.'"
Article viewed on Oye! Times @ www.oyetimes.com