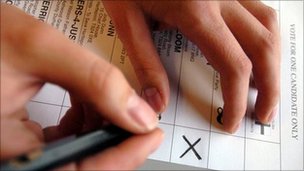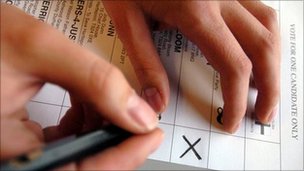 Political parties are staging a final day of campaigning ahead of local government elections in England, Scotland and Wales on Thursday.
Referendums on creating elected mayors are also due to be held in 10 English cities. In the due course, people in Liverpool, London and Salford will elect their mayor.
Voters will be giving their opinion on 21 out of 22 councils – with Anglesey omitted due to it being run by a group of commissioners after being placed in "special measures". It would be the third time in less than one and a half years' span, the Welsh public has gone to the ballot box – following last year's referendum and Assembly elections.
Labour is optimistically looking towards having council gains in England and Wales after losses in 2008, while the Conservatives are also hopeful to successfully defend the gained seats last time. A recently taken YouGov poll has shown a support for Carwyn Jones's party at 48% – 21% as compared to it was four years back. However, the election setting has been provided majorly by the U.K. Government – with the First Minister asking public to use their voting right to "send a message" to Prime Minister, David Cameron. The opinion polls are pointing the fact that the Welsh Conservatives are the only other party out of the "big four" to witness a support increase – albeit by 1%.
Mr. Cameron's Cabinet colleague, Mr. Clegg is expecting the elections to be "tough" for the Welsh Liberal Democrats. According to the YouGov poll, overall support for the Lib Dems has dropped by 6% than in 2008.
Plaid Cymru is hoping its new leader, Leanne Wood's staunch left-wing policies and "common touch" will helpfully convince the voters towards the nationalists' cause. YouGov poll has shown that the support for Plaid has fallen by 3%.
Mr. Cameron has insisted his fellow Tories to be "proud" of their record in office, adding that they run "the best-value councils in the country". But Labour leader, Ed Miliband has promised to "make a difference" at the local level with the help of his party, including providing privileges to pensioners and creating a "fair deal" for transport users.
Deputy Prime Minister, Nick Clegg has insisted that Liberal Democrat policies, such as cutting tax for the low paid, are "starting to make a difference" to the public and that the party is "focusing its resources" on places where it has the strongest chance of winning.
A larger drop is being predictable in the election of independent candidates. However, a political commentator, Gareth Hughes has stated that there is a possibility that the opinion polls were not necessarily a true reflection of the final outcomes in certain areas due to the diverse nature of Welsh councils.
He said: "The big question of the night will be whether Labour make sufficient gains to take the pressure off Ed Miliband. My guess is the polls will be reflected on the night and Ed will be crowing over a major victory. Local campaigning can make a difference. Be assured Liberal Democrat councillors are local campaigners par excellence and their work will mitigate some of the YouGov poll's predictions."
Article viewed on Oye! Times at www.oyetimes.com.