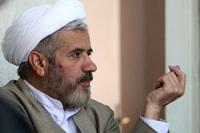 An advisor to opposition leader Mir Hossein Mousavi, has been released on bail, according to reports.
Green Movement website Tahavolesabz has reported that Mohammad Reza Nourollahian was released from Evin prison on Monday on a bail of close to $96,000. The cleric and advisor to opposition leader Mir Hossein Mousavi, was detained during a funeral procession held for Mousavi's father on Thursday 31 March.
Mousavi's website said his father's body was taken by officials in plainclothes to an ambulance as mourners had gathered in front of his house. Mr Nourollahian was arrested and beaten up after he protested against the security forces' interference in the procession and their violent mistreatment of mourners.
Nourollahian, a moderate cleric and former Intelligence Ministry deputy, was interrogated for five hours at the Special Clergy Court before being taken to Evin prison while insulted and handcuffed. Security forces told the cleric his charges were "disrupting public order, provoking the people to act against the country's internal and external security, threatening government agents, and behaving against clerical dignity [and norms]." Despite the charges against Nourollahian, his only crime was to object to the authorities' shameful disruption of the funeral of Mousavi's father and the security forces' maltreatment of mourners paying their respects to the deceased.
Mohammad Reza Nourollahian is a former staff member at the house of Supreme Leader Ali Khamenei and a respected figure amongst both reformists and conservatives. During the fraudulent 2009 presidential race, he was a member of the Mir Hossein Mousavi election campaign and in charge of clerical affairs in the campaign.
Mir Esmail Mousavi, father of former prime minister and current Green Movement leader Mir Hossein Mousavi died at his home in Tehran on Wednesday at the age of 103. Mousavi and his wife Zahra Rahnavard were allowed to say their final farewells to their father on Wednesday night, though the couples were accompanied by a sizeable number of security forces. They continue to remain under house arrest.
Click HERE to read more
Article viewed at: Oye! Times at www.oyetimes.com