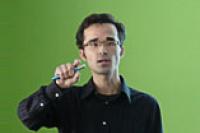 An Iranian student from the University of Texas at Austin is being held in Iran's notorious Evin prison, according to reports.
Green Movement website Kaleme has reported that 29-year-old Omid Kokabee, a physicist at the University of Texas at Austin, has been held in Iran's Evin prison for close to three months.
According to the report, almost three months ago, the post doctorate student was apprehended at Iran's Imam Khomeini airport upon arrival from the US for a regular family visit. He was detained on charges of having "links with a hostile state" and "receiving illegitimate income." Kokabee was then taken to Evin prison's ward 209 and held in solitary confinement for a month before being transferred to ward 350. Since his arrest, interrogators at Evin prison have threatened Kokabee with the arrest of his family to force him into cooperate.
Kokabee, an Iranian Turkmen, is a laser physicist and among the country's brightest minds. He was ranked 29th in Iran's nationwide Konkoor examination, a highly competitive hurdle for students wishing to enter university. He was also once invited to a meeting between Iran's Supreme Leader Ali Khamenei and students with outstanding academic achievements.
The young student, who is from Iran's Sunni minority, is being charged with having "links with a hostile state" simply because his university had been covering of his travel expenses.
The report adds that Kokabee is to be tried in a revolutionary court headed by Judge Salavati who is known for the harsh and merciless sentences he has handed down to dissidents in the past.
Article viewed at: Oye! Times at www.oyetimes.com