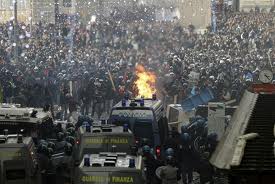 After a night of violence between what can only be labelled the protesters and pro-Mubarak supporters, the army has apparently stepped in to provide a buffer between the two warring sides.
CNN has reported
that Egypt's prime minister apologized Thursday for the violent attacks on protesters yesterday and said the country's president has asked him to investigate the security chaos. He was quoted as saying, "This is a fatal error, and when investigations reveal who is behind this crime and who allowed it to happen, I promise they will be held accountable and will be punished for what they did."
http://www.youtube.com/watch?v=4JJHYYvC3m0
http://www.youtube.com/watch?v=PXCsv552wCE
http://www.youtube.com/watch?v=0DAXiMHiu1M
http://www.youtube.com/watch?v=76d5FGtWW4k
Videos have been posted of armed men arriving in Tahrir Square on camels and horses on Wednesday which started a series of clashes between rival groups. Protesters had at times become their own police force capturing some of these people and tying them up. One report had the protesters discovering the I.D. of one of these showed he was a member of the police force.
For some unknown reason, these pro-Mubarak supporters on numerous occasions attacked journalists on the ground reporting the events. Most of the major news outlets like CNN, CBC, the New York Times and Associated Press all turned in reports from their people describing how they had been set upon by this new group of people supporting the Mubarak government. CNN's Anderson Cooper had a video (
see Daily Mail
) detailing how he and his cameraman were struck and were fortunate enough to get away before any serious damage occurred.
CBC reported
:
Radio-Canada reporter Jean-François Lépine and cameraman Sylvain Castonguay were roughed up by pro-government supporters near Cairo's airport. Castonguay was badly beaten, and the attack only ended after soldiers intervened.
Rumours are rampant that the Mubarak government is behind these people, hiring thugs to intimidate and scare protesters into capitulating. These stories are now so common place that even foreign leaders are demanding an investigation. If the strategy was to use heavy-handed dictatorial violence to put down this supposed revolt, it could very well backfire if and when the truth comes out. Both internally and externally, the tide is moving against the status quo and the Mubarak government and there is no doubt that the time of change has come. Things cannot remain as they have been for the last thirty years.
On Wednesday, Omar Suleiman, Egypt's newly appointed vice president, urged all demonstrators to respect the curfew and go home adding that his dialogue with political forces depends on an end to street protests. However, opposition groups, including the country's powerful but officially banned Muslim Brotherhood, have rebuffed any dialogue with the government before Mr. Mubarak leaves office. There have been calls for widespread demonstrations on Friday to press for the embattled president's departure. An estimated 250,000 people flooded Tahrir Square on Tuesday to demand President Mubarak's resignation; not quite a million men as originally touted but significant nevertheless.
The United States reassesses the Muslim Brotherhood
The U.S. has long held distrust for this group which espouses a fundamentalist ideology. However the reality is that this opposition group is going to play a role in the new Egypt if free and fair elections are held.
The Washington Post
reported on a comment from the White House made this past Monday, a clear reference to the Brotherhood, when it said that a new government in Egypt should "include a whole host of important non-secular actors." Of course the problem for the U.S. and other western nations including Israel is whether or not a regime change could open the door to an Islamist government.
Egypt was the first Muslim nation to sign a peace with Israel and Israel has long recognised and benefited from the sustained peace on its western border because of that agreement. A change in government could mean everyone is back to the bargaining table.
Today, Thursday
As of this writing, it is 8am EST which means it is 3pm local time in Cairo. Hopefully with the army separating the two sides, the situation will be more peaceful, less chaotic. The
BBC's viewpoint
on what is turning into a waiting game is how Mubarak is going to ride out the situation and make a transition of power which may mean the military as opposed to a free and democratic system. Certainly Mubarak's understands his people are poor and they cannot protest indefinitely. At some point they will have to go back to work and the reality of making their living.
Associated Press – Feb 2/2011
Mubarak Backers Attack Foes With Firebombs
Thousands of supporters and opponents of President Hosni Mubarak battled in Cairo's main square Wednesday, raining stones, bottles and firebombs on each other in scenes of uncontrolled violence as soldiers stood by without intervening. (Feb. 2)
http://www.youtube.com/watch?v=SML_BHf8F7U
Link TV – Feb 2/2011
Press TV Blames "Mubarak Thugs" for Clashes
(Mosaic Video Alert: February 1, 2011) Iran's Press TV reports that protests in Tahrir Square, or Liberation Square, have turned from peaceful to violent with clashes erupting between "pro-Mubarak thugs" and anti-government demonstrators. The army can no longer be seen in Tahrir Square with soldiers opting to remain in their vehicles. Press TV reports that "thugs" entered the square on camels and horses and that there have been reports of gunshots and Molotov cocktails.
http://www.youtube.com/watch?v=GvvRg7wryyM
Click
HERE
to read more from William Belle.
References
Wikipedia: Link TV
Link TV is a non-commercial American satellite television network providing "diverse perspectives on world and national issues." It is carried nationally on DirecTV and Dish Network. Link TV was launched as a daily, 24-hour non-commercial network in 1999. It receives no money from the satellite providers, but relies instead on contributions from viewers and foundations.