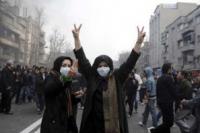 The Council for the Coordination of the Green Path of Hope has called for nationwide protests on 20 February to commemorate the fallen protesters who lost their lives as a result of state brutality during pro-opposition demonstrations on 14 February.
"While offering our condolences for the martyrdom of two of this country's oppressed youth during the 14 February demonstrations, and paying homage to the tens of Green Movement martyrs, we call on the great nation of Iran to take part in assemblies marking the seventh day of mourning for the martyrdom of these beloved ones on Sunday 20 February at 3pm in Tehran and cities across the country," said the statement published by the official website of Green Movement leader Mir Hossein Mousavi,
Kaleme.com.


The statement notes that the 20th of February coincides with the birthday of Prophet Mohammad and Imam Jafar Sadegh, the sixth infallible Imam of Shiite Muslims.

The Council for the Coordination of the Green Path of Hope continues that a "glorious presence" during the planned protests on 20 February will be a reiteration of the people's "firm support for the leaders of the [Green] Movement Mr Mir Hossein Mousavi and Mahdi Karroubi to continue with the difficult path towards freedom and human dignity" and "a show of solidarity with our Kurdish compatriots in commemorating the these two Shiite and Sunni Iranians whose blood has been spilt in the struggle against religious tyranny."
On Monday, Iranians across the country took to the streets of the country to express their solidarity with the Tunisian and Egyptian uprisings. Despite the epic turnout, two Iranian students by the names of Sane Zhaleh and Mohammad Mokhtari were shot dead by Iran's security forces in the capital Tehran.
To join the Green Path of Hope's official facebook page, click on
this link.
After being directed to the website, click on the "like" icon on the top part of the screen.
Click HERE to read more.
Article viewed at: Oye! Times at www.oyetimes.com