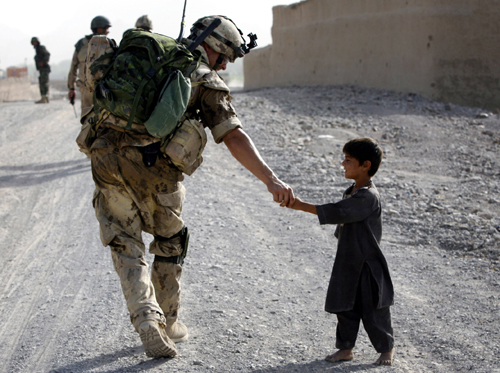 I thought he was joking when I got off the monstrous C17 Globemaster transport aircraft in Kandahar Airfield, Afghanistan and he told me there was a curry line at the British run dining facility. He was the second-in-command of my unit and had already been in Afghanistan for a week and this was his second tour of duty. My flight arrived late at night and when I got off the aircraft I could smell a distinct foul odour (I later learned it was from the sewage pond located on the camp) which lingered in the hot, particulate filled air. This is my first tour of duty as part of Canada's contribution to the military mission in Afghanistan.   I had to almost pinch myself to know that I had finally arrived after over a year of training and preparing for this – I was excited to get to work.   
There are two groups of people here – those who stay at Kandahar Airfield (KAF), and those who go 'outside the wire'. The ones who stay in KAF have it relatively easy and are made up mostly of support or Command elements. Those who go outside the wire are in KAF for a short time before they are sent out to the various Forward Operating Bases, Combat Outposts or Patrol Bases positioned within the Canadian Area of Operations. They only have time to receive some theatre specific training, draw special equipment, get ammunition and link up with their transport. I am in the first group – this group is referred to as 'KAF'ers'. 
KAF is a sprawling multi-national base in southern Afghanistan that seems to have no urban design practice applied to its roads and buildings. A few roads are paved but most are of 1 inch gravel or sand.  As the camp had to expand it seems roads and compounds were added with no particular plan in mind. Cars and trucks (the Toyota Hilux is popular) are used by personnel on the camp to get from place to place and  military vehicles from the massive to the small are also ever present. The roar of jets taking off or landing is always part of the sound scape and occasionally a rocket is fired by the Taliban into KAF. The sound of low flying fighter aircraft now makes me hyper-alert for a split-second because of the similar screaming sound they share with incoming rockets.   I find the dining facilities quite adequate and have no complaints, as it could always be worse. I was warned of the lineups at these facilities, but I have only had to wait in line a few times; if you time your meal time just right you can breeze through. I was also happy to see that my friend wasn't joking about the curry line at the British facility. This line serves basmati rice, daal, sabzi and curries ranging from chicken, lamb – even turkey and pork, depending on the menu of the day. A large vat of mango chutney is also available which I always have a large dollop of. One of the things I was dreading missing was Indian food for several months while here, but having the curry line really made me happy – there are no rotis though. There are many Indians who work on the camp as civilians in various capacities. They are hired from private contractors to work in the kitchen, clean accommodations or work in construction. I have struck up a few conversations with these workers in Hindi, but there was an initial skittishness they had, I could see they were trying to figure me out. When I would add a few words in Hindi while going through the curry line they would light up and smile back with a "kaiso ho bhai sahb?" Several local Afghans also speak Hindi and I have spoken with a local bookseller, Ahmed, who claims to also speak several other European languages. The Afghans I've spoken with are also quite fond of Bollywood films, and you can often hear some classic 90's Bollywood in their small stores. The local radio station mostly plays Pashto music, but Bollywood tracks are common too.
I hope this small glimpse of life in KAF has helped to shed some light on what it is like here, and I hope my future writing can provide you with more understanding of some of the things soldiers experience, think of and hope for.
Please feel free to comment. Comments are encouraged and welcomed. All comments are read by the author.