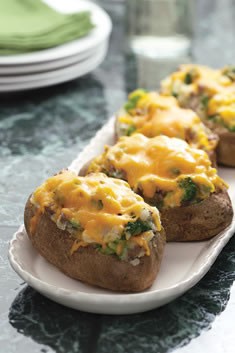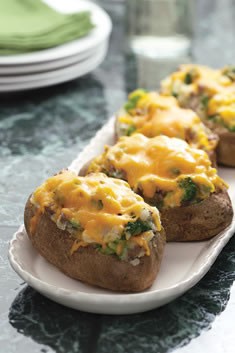 Think of baked potatoes as nature's mini casseroles: an edible dish that can hold up to a hearty stuffing. Russets have just the right balance to make a perfect twice-baked potato: enough starch to keep its structure, enough moisture to endure the double cooking.

Ingredients

4 Medium russet potatoes
8 ounces Shredded Paneer
1 cup Green beans, finely chopped
1 cup Water
1 cup Reduced-fat Cheddar cheese, divided
1/2 cup Reduced-fat sour cream
1/2 teaspoon Salt
1/2 teaspoon Cayenne Pepper
1/4 teaspoon Freshly ground pepper
3 Scallions, sliced

Preparation
1. Pierce potatoes all over with a fork. Place in the microwave and cook at 50% power, turning once or twice, until the potatoes are soft, about 15-20 minutes. (Or, use the "potato setting" on your microwave)
2. Meanwhile, sauté paneer with a little oil in a large skillet over medium-high heat, stirring often, about 3 minutes. Add salt to taste and some cayenne pepper. Transfer to a large bowl. Increase heat to high, add green beans and water to the skillet, cover, and cook until tender, 2-3 minutes. Drain the beans; add to the paneer
3. Carefully cut off the top third of the cooked potatoes. Scoop the insides out into a bowl. Place the potato shells in a small baking dish. Add 1/2 cup Cheddar, sour cream, salt and pepper to the potato insides and mash with a fork or potato masher. Add scallions and the potato mixture to the beans and paneer; stir to combine.
4. Evenly divide the potato mixture among the potato shells and top with the remaining 1/2 cup cheese. Microwave on high until the filling is hot and the cheese is melted, 2 to 4 minutes.
Top it off with scallions. Add coriander chutney on top to make it different.

Cook's Notes
Vegetarian variation: You can replace the paneer with a ground meat of any kind.