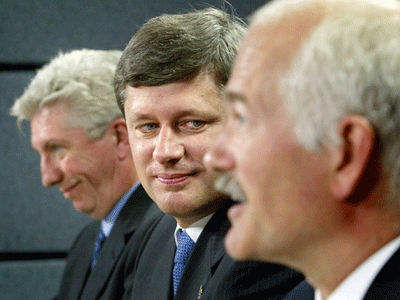 With the apparent NDP "surge" the kneejerk reaction seemed to be how this was exclusively bad news for the Liberals. Particularly, I noted a certain glee coming from Conservative sources, but as I stated yesterday, the impact isn't entirely clear. There is a very plausible scenario, wherein a strengthened NDP, at the expense of the Bloc, creates a bigger threat to Conservative fortunes. Of note, EKOS yesterday gave the Liberals 82 seats, the NDP 60, translating to bigger slice combined than that of the Conservatives. Coalition talk, the "separatist" angle the greatest irritant, Conservatives should rightfully worry that they'll lose their chief FEAR card, legitimacy an emerging equation. In addition, with support on the rise elsewhere, there is also the prospect of the NDP taking seats away from the Conservatives. Don't agree with the possibilities posited, tell the Conservative war room:
http://www.youtube.com/watch?v=_PYTd52pT28
Speaks volumes about what might really be going on here!
Click HERE to read more from Steve Val.
Article viewed at: Oye! Times at www.oyetimes.com