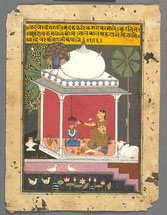 Opening during South Asian Heritage Month in Ontario, the ROM's newest exhibit exploring art from India features new acquisitions as well as artifacts from the vaults. This exhibit of 30 objects in a 400 square foot case explores themes associated with Ragamala painting, a genre of South Asian miniature painting that flourished during the 16th -19th centuries. Originating in western India, Ragamala painting came out of artistic workshops of the Rajasthani kingdoms from where they spread southward to the Deccan and later northward to the Pahari region (now in the state of Punjab).
Ragamala painting is a confluence of three artistic forms: music, poetry, and painting. They are illustrations of poetic verses composed to go along with codified modes of classical Indian music (ragas). Love and its myriad forms is the dominant theme in the paintings that illustrate various scenes of romantic encounter, anticipation of that encounter, and longing for the beloved. More than half the objects on display are paintings, many of which have been newly acquired as part of the Charles Green Collection and on display for the first time. Complimenting the paintings is a display of musical instruments from the ROM vaults that would have made up a North Indian music ensemble, many of which can be seen being played in the paintings. The exhibit also includes a large painted textile depicting the Hindu epic The Ramayana, which would have been used as part of a performance that included music, singing, and dance. In this way, the exhibit is about the fluid boundaries between artistic forms that is a characteristic of South Asian visual culture.
The exhibit has been curated by Dr. Deepali Dewan, ROM Curator of South Asian Visual Culture, with the instrument section co-curated with Ameera Nimjee, University of Toronto M.A. student in Ethnomusicology. A media station presenting the musical counterparts to the paintings will be installed at a later date, curated by Dr. James Kippen, Professor of History and Culture in the Faculty of Music, University of Toronto.
8 May – 28 November 2010
Sir Christopher Ondaatje South Asian Gallery, Special Exhibits Case
Royal Ontario Museum, Toronto