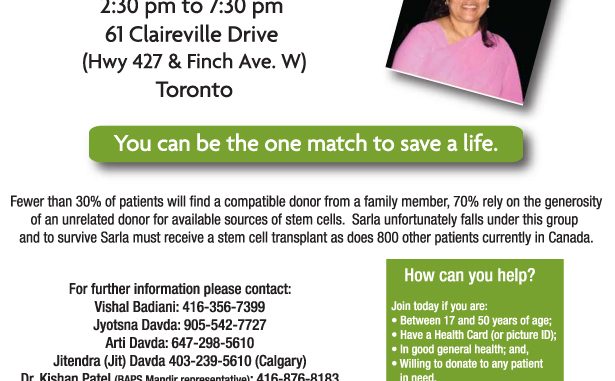 This is an urgent request for a Bone Marrow match for Sarla Davda who lives in Pittsburgh, USA.
Sarla was recently diagnosed with Acute Lymphoblastic Leukemia (ALL), which is a rare and life-threatening form of leukemia.
Sarla has been in the hospital and has undergone many different treatments, including transfusions, platelets, and plasma. In addition Sarla began Chemotherapy, which will keep her in the hospital for the better part of the next few months. As treatment and testing progressed, her doctors have informed the family that her form of ALL is one in which it is critical that she receive a Bone-Marrow transplant. The timeline for this procedure is within the next 3 months, as long as a suitable (matched) donor is found. The longer she goes without a match being found, the lower her chances of long-term survival.
We are conducting an on-site bone marrow drive on July 25th from 2:30-7:30pm at the Swaminarayan Temple, details are provided in the poster.