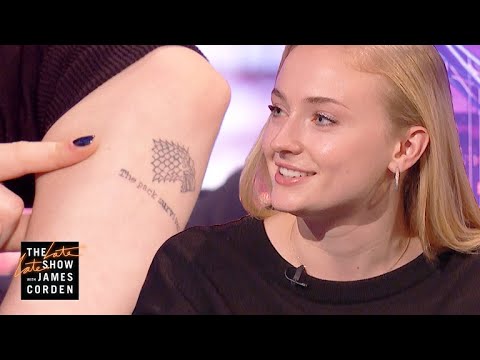 Sophie Turner's on-screen presence as Game of Thrones MVP Sansa Stark and Marvel's devilish, telekinetic Dark Phoenix make her a formidable actress, but it's her off-screen antics, like chugging wine faster than Cersei Lannister and wearing thigh-high boots to an outdoor wedding in a Scottish castle, that make us want to be her best friend. Throw in a tattoo collection packed with both meaningful homages and just-for-fun designs, and she's at the top of our "celebrities we want to split a bottle of red with" list.
We may never be tight with Turner in real life, but as fans, we do know the key to her heart — and that's her tattoos, many of which are rife with sentimental value. From tributes honoring both of her families (as in, actual relatives and beloved costars) to potential GoT spoilers (seriously), we've mapped out a comprehensive guide to them all, and their meanings, ahead.
The Tattoo: "07.08.09"
The Meaning: Just after landing her role as Sansa Stark on Game of Thrones, Turner got a tattoo to celebrate the gig with co-star Maisie Williams, who plays her on-screen sister Arya Stark. Now, the two have matching forearm tattoos of the date they landed their breakout roles. But the coolest part about this tattoo is the significance in the ink color. "I had a deal with my mum," she told Refinery29. "I wanted a tattoo on my forearm and she said, 'If you want one, it has to be somewhere I can't see. It has to be discreet.' So I got it in peach so she wouldn't be too offended by it, but I'll probably go over it with darker ink eventually."
The Tattoo: Five tally marks
The Meaning: In early 2016, Turner secretly got a new finger tattoo, but wouldn't officially reveal a close-up of the five tally marks on Instagram until that July. Two years later, Turner told Refinery29 the meaning behind the lines: Five tallies represent the five members in her family, including her mother, father, two brothers, and herself.

The Tattoo: X-Men logo
The Meaning:
Turner revealed her
side-boob tattoo
in late 2016 after starring as Jean Grey in
X-Men: Apocalypse
(a role she's set to revive in
Dark Phoenix
). Fans of the comic will notice that the circle and "x" image is the logo of Marvel's Xavier's School for Gifted Youngsters, the fictional safe space for mutants where the original X-Men got their start.
Photo: Venturelli/WireImage/Getty Images.

The Tattoo: "J"
The Meaning: Although there's no proof of when or where Turner got the "J" on her wrist, fans suspect they know the meaning: Joe Jonas. Not only does Turner have her fiancé's initial on her wrist, but he has the same (an "S" for Sophie) on his.
Photo: Via Instagram Stories/@sophiet.
The Tattoo: Rabbit
The Meaning: Last March, a day after Jonas got a portrait of a woman (who's probably in Sansa Stark's image) tattooed on his forearm, Turner got the rabbit inked on the back of her right arm. She recently told Rolling Stone that the ink doesn't really have any significant meaning at all, although she has heard at least one theory from others: "A lot of people say it looks like bunnies fucking each other."
The Tattoo:
Woman's face
The Meaning: A week after showing off her new arm tattoo, artist Curt Montgomery revealed that Turner also got a thigh tattoo. Instead of a woodland creature, Turner requested a drawing of a woman peering over her left shoulder this time. The meaning for this one was never revealed, but most fans assume it's a tribute to her GoT character — and a clever iteration on Jonas' Sansa Stark-inspired arm tattoo.
The Tattoo: Direwolf
The Meaning: By the time Turner finished filming the final season of Game of Thrones, she added another tattoo inspired by the show: a direwolf and Ned Stark's maxim, "The pack survives." Some fans immediately complained that this was a huge spoiler for the fate of the remaining Stark children: Sansa, Bran, Arya, and, technically, Jon Snow. When confronted about the potential teaser on The Late Late Show With James Corden, Turner said that the quote is simply a motto she likes to live by.
The Tattoo: Infinite triangle
The Meaning: In July 2018, Turner got the sibling tattoo she'd eventually call her favorite: three overlapping triangles. "It's three triangles, and it's Plato's theory that the soul is comprised into three parts: reason, spirit, and appetite," Turner explained. All three siblings represent one corner of the infinite shape: James is "reason;" Will is "spirit;" and Turner is "appetite," because of what she calls her all-consuming work ethic. (Also, she just loves eating.)
The Tattoo: "G"
The Meaning: That same month, Turner added the letter "g" to her pinkie finger in honor of her grandfather, which she revealed on Instagram with the caption, "For my grandad. My hero." (For the record, Jonas also has a tattoo inspired by his grandfather.)
The Tattoo: Constellation
The Meaning: In August, Turner tapped celebrity tattoo artist Daniel Winter for her new spine tattoo. Winter hinted at the constellation design's meaning in his Instagram caption, calling it the "north star." Perhaps this is another, albeit subtle, reference to GoT? After all, Sansa is technically the current queen of the North.
The Tattoo: "& beyond"
The Meaning:Couple tattoos are how celebrities say "I love you," and, in the case of Jonas and Turner, that comes in the form of a Disney reference. Back in June, the two both had Buzz Lightyear's famous quote from Toy Story — "to infinity and beyond" — inked on their wrists.
The Tattoo: Flames
The Meaning: The actress showed off the delicate design on Instagram in January with the caption, "Phoenix-ing out." Turner suggests it's a reference to her upcoming role as Jean Grey in Dark Phoenix.
Click HERE to read more from Refinery29


Loading ...