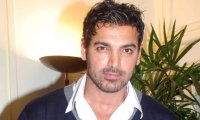 This article was last updated on April 16, 2022
Canada:

Oye! Times readers Get FREE $30 to spend on Amazon, Walmart…
USA:

Oye! Times readers Get FREE $30 to spend on Amazon, Walmart…

Ever seen an actor attacking his popcorn roles with infectious relish?
First up, you need to see Dostana. Oh! By the way, I'm addressing this to the beautiful ladies out there. 'Butt' (read 'but') if you haven't seen, you need not worry. There's Desi Boyz releasing tomorrow. John Abraham shows the desire to remain interested and interesting when you talk to him in person. It may be tempting to slot John into a traditional Bollywood narrative but trust me; he looks settled, much settled than he was before in his relationship. For now, he is single again, on and off screen and this may be the only time you ladies can get your hands on him. Go for the grab girls!
Presenting you John's love for his directors, his longing to listen to the script of Jism 2, his movie I Me Aur Main that holds a special place in his heart, his desire to see himself in action roles, his desperation to pump in more money into smaller films so that they do well at the box office and his conviction that Desi Boyz isn't for the boys, it's for the ladies. Wink wink! "I want to work with Tarun, Kabir Khan, Sanjay Gupta and Milan Luthria again" Dostana 2 may happen with Tarun Mansukhani.
Currently I'm shooting for Race 2 and next year is Shootout At Wadala. I loved myself in Taxi No. 9211. I loved Zinda and I am going to work with Sanjay Gupta again in Shootout. I am going to work with Milan Luthria again after he finishes his film with Akshay next year. I know with certain directors I share certain camaraderie and the performance can come out the way it did. I would work with Nishikant again. You won't believe but many people have come up to me and said that Karam was their favourite film. How strange is that? I think it's important to work with people who make you happy. Milan, Sanjay, Tarun, etc they all made me happy. I will work with Kabir Khan again too.
"I express my desire to listen to the script of Jism 2 but I don't have time"
There've been talks for Jism 2. Bhatt saab did speak to me about the movie but honestly I haven't got a chance to say 'yes' to the movie right now as I'm busy with three films back to back. I express my desire to listen to the script but I have not got the time to. I am finishing Housefull 2 after Desi Boyz. But I've only had talks till there and haven't gone ahead in committing myself to Jism 2.

"I'd like to see John Abraham do a lot of action movies"
At this point, I'd like to see John Abraham do a lot of action but also want to see him commercially glamorous. That's what audience would also like to see. I'd like to see a more sensitive John. I'd rather go see a film where I get gratified with instantly. It's like someone saying, "Show me comedy because I'm fed up with life". Desi Boyz delivers on that front. It will make audiences laugh out loud.
"I'm doing a film titled I Me Aur Main which holds a special place in my heart"
Duration matters a lot today. The patience levels are being tested with each film. I am doing a film called I Me Aur Main. It's a beautiful film that I'm shooting in January. It's in the Wake Up Sid space. It's about how a guy's life improves with the women in his life. It's being directed by debutant Kapil Sharma and its 105 minute duration. It's my pet project. It's a sweet little film that holds a special place in my heart.

"Studios should put in more money on the promotions of smaller budget films"
Yes, I want to give it that extra push to all my pet projects that I've loved to be a part of. I mean, I want to be the face for those films. I want to take to the highest level of marketing. But then it's like taking the horse to the water but you can't make him drink it. I can go to my producers or studio and tell them to spend a little more on marketing but they'll say No, because they've only allocated a certain budget to their respective movie. But in days where marketing is the key to the success of smaller films, the day when our studios realise this, the films will do exceptionally well.
"Desi Boyz will have women audiences in plenty"
You will definitely have women audience coming in to see the two male escorts (laughs). Yes, it promises a little hint of adult entertainment by not pushing the boundaries. It's a clean film as I've said earlier. So yes, family audiences are welcome too.
"No superstar can save a bad film"
No good actor can save a bad film. No superstar can save a bad film too. You may get an opening because you are a super star or your individual talent is recognised but at the end of the day it's the story that people have spent their money on and want to see. Yes, sometimes bad films have also worked and I won't mention them. But honestly, we really want all our films to do well.
Click
here
to read the first part of this feature.
You can publish this article on your website as long as you provide a link back to this page.