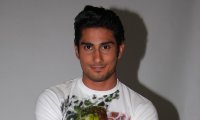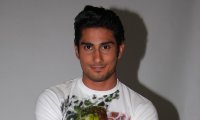 4 years ago when I first met Prateik during the release of his debut film
Jaane Tu…Ya Jaane Na
, he was a lanky lad clueless about Bollywood in spite of coming from a filmy family. A lot has changed since then. For starters, Prateik has beefed up considerably. He is also much more tuned in about the ways of the industry and seems more assured of his own craft. After all, he's had half a dozen releases so far.
Bollywood Hungama
's Nikhil Ramsubramaniam chats up with the wonder boy of Bollywood- Prateik, who many believe to be a '
lambi race ka ghoda
'. Prateik opens up about his forthcoming film
Ekk Deewana Tha
, working with noted South Indian director Gautham Menon, the magic of A.R.Rahman and of course his relationship with co-star Amy Jackson. Read on…
Ekk Deewana Tha we all know is a remake of the Tamil blockbuster Vinnaithaandi Varuvaayaa (VV) which was also remade in Telugu. Did you see the Tamil film before you began shooting?
Yes…in fact that was how I was approached for the film. Gautham Menon showed me Vinnaithaandi Varuvaayaa and told me that he was planning to remake the film in Hindi and wanted me to play the lead role. I watched the film and it completely blew my mind and there was just no way I could refuse the offer.
Would you say the film is a carbon copy of the Tamil version or have you made a few changes?
Well, we have tweaked it a bit here and there but I'd still say it's almost 90% a frame to frame remake of Vinnaithaandi Varuvaayaa. There are also 2 new songs added in the Hindi version and we have also changed the climax so you will have to wait and watch.
For the benefit of those who haven't seen the Tamil or Telugu versions of the film, could you give a brief synopsis of the film?
Ekk Deewana Tha is a simple, beautiful love story. It's in no way glamorous or larger than life. It's about love and all the other emotions that you experience when you are in love. The romance in the film is portrayed in a very realistic manner.

How similar / different is your character from the one portrayed by Simbu in Vinnaithaandi Varuvaayaa?
Well, the character sketch is pretty much the same but I have tried to incorporate my own unique traits to the character. I didn't want to ape Simbu or Chaitanya (who starred in the Telugu version) and that was a real challenge for me. I play Sachin Kulkarni, a middle-class Maharashtrian boy who wants to be a filmmaker. He begins meeting people from the industry and starts of as an Assistant Director. Soon he meets this beautiful girl called Jessie (Amy Jackson) and falls head over heels in love with her. The rest of the film is about how their relationship grows over time and the various crazy things that happen when you are in love.
From the promos, you seem to be sharing great chemistry with your co-star Amy Jackson…Tell us more about that.
Amy is the sweetest girl I know and really dedicated to her craft. Even though she doesn't know Hindi, she had the urge to do well and used to hang out on the sets and learn even when she was not required. As it's a romantic film, there had to be a bond that had to be formed to create that chemistry on -screen and I am glad that people like our pairing.
How was it working with Gautham Menon who is a big name down South but has just made one Hindi film – Rehna Hai Tere Dil Mein ( RHTDM)?
Yeah! Gautham is making a Hindi film after more than 10 years and I hope I do some justice to this film of his. I hope I am able to play a part in his success. He is an awesome visionary and one of the coolest and most composed directors I have worked with. We had a great actor-director bond and he is always open to suggestions from his actors.
One of the USPs of the film is the music by A.R.Rahman and lyrics by Javed Akhtar. Do you consider yourself lucky to be a part of such a film featuring such stalwarts?
Absolutely….I couldn't have asked for anything better than having legends like A.R.Rahman and Javed Akhtar associated with the music of our film. A.R.Rahman has gone on record stating that Ekk Deewana Tha is his most romantic album till date which itself says a lot.

' Hosanna' has become a rage but the other songs are yet to catch on. Do you think they will pick up more once the film releases?
I believe so. ' Hosanna' is topping the charts but there are some really beautiful songs in the album too which I am sure will be liked by people once they see the film. The thing about Rahman's music is that it doesn't hit you instantly but grows on you slowly and eventually stays with you.
You guys shot at various places including the monument of love Taj Mahal…how was that experience?
We shot in Delhi, Agra, Mumbai, Goa, Chennai, Trivandrum, Madurai etc. Shooting at the Taj Mahal was an experience of a lifetime. It's an apt location for a film like this as it is the monument of love. The Central Park scene which you see in Vinnaithaandi Varuvaaya was shot at Taj.
You've done a rather interesting mix of films in your career starting with Jaane Tu…Ya Jaane Na, to Dum Maaro Dum, Aarakshan, Dhobi Ghat, My Friend Pinto and Ekk Deewana Tha….what's it that makes you say yes to a role- is it the banner, the director or the script?
Definitely being part of a film made by a good banner is important as it makes you feel a lot more secure and safe. But my criteria for selecting a role are the script, story and my character. I prefer choosing roles that challenge me to step out of my comfort zone and make me think creatively. Also I am a director's actor so having a good director always helps.
Last year you had your first solo release in the form of My Friend Pinto which flopped badly at the B.O. What do you think went wrong with that film?
Whilst shooting for My Friend Pinto, all the actors including Kalki, Raj Zutshi, Divya Dutta, Makarand Deshpande and myself believed in the story and comic element of the film. We felt that we are on the right track with respect to what we set out to make. But when we saw the final product, it was quite shoddily edited and altered which was rather heart-breaking. Moreover, it wasn't marketed that well which also affected the fate of the film in an adverse way.

A lot has been said and written about your and Amy's relationship status. Is it fair enough to say that you are in a happy space right now?
Yeah…I am in a happy space. I am really happy that I met Amy because of this film and got to know her really well during the making of the film. We are extremely close and fond of each other. I know for a fact that she is there for me whenever I need her and so am I.
The film is releasing around Valentines Day, do you believe in such days and are you a romantic at heart?
I choose to believe that I am a true romantic. This is definitely a special day since it's a known fact. Having said that, love can be celebrated every day. I am lucky that I am getting to spend Valentines Day with Amy. We would be busy promoting the film but at least we get to be with each other.
Finally, what are your forthcoming films?
My next release would be Issaq. It's a film set in Benaras that has romance and violence. It's an Indian adaptation of 'Romeo and Juliet'. I play a playboy and a killing machine, a boy with a stone heart and a stone mind. It's a pretty intense and a real character…something that I am really excited about.