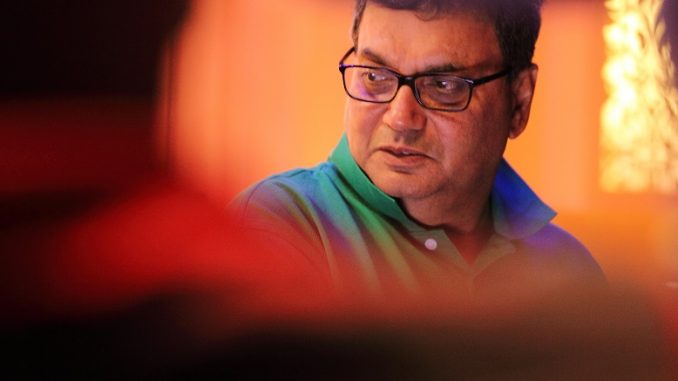 This article was last updated on April 16, 2022
Canada:

Oye! Times readers Get FREE $30 to spend on Amazon, Walmart…
USA:

Oye! Times readers Get FREE $30 to spend on Amazon, Walmart…

This maverick Film maker who is also called as the 'Showman' made most notable films such as Kalicharan (1976), Karz (1980), Hero (1983), Meri Jung (1985), Karma (1986), Ram Lakhan (1989), Saudagar (1991), Khalnayak (1993), Pardes (1997) and Taal (1999). He launched Mukta Arts, a film production company in 1982, and is considered a Legendary Maker who made films that portray grandeur and very rich themes. The man who is known as an Institute himself, Created an Institute called Whistling Woods International for aspirants of the world. The one and only Subhash Ghai is now ready with his magnum opus Kaanchi ready for release this December 6th goes in candid with Faisal Saif.
Re-Discovering the Showman..
My father was a Doctor in Delhi. For me Studies were never important during my educational days. I used to study the last minute of my Exams and pass out with good numbers. I was the 'Hero' of my college. I was more into Dramas and other activities. I used to hide my talent from my father. Because in those days by doing Dramas etc, You don't get any Jobs. Today is different, You see a talent in a kid and you bring him into any Reality-Show. In those days, There were no Reality-Shows. But i never gave up on my talent. I used to act and direct plays for my University and received Gold Medals.
Looking at the on-going Remaking factor in Bollywood, Have you ever considered Remaking any of your Films?
How can i remake my Films? Can i remake Kalicharan again? Can i make Ram Lakhan again? It will look stupid. How can i make these films again? I have worked so many years of my life, I want to excel myself. I cannot go back.
Tell us something about your new magnum opus Kaanchi..
Now i am making Kaanchi which is a compromise in between my kind of cinema and current audience. I am making Kaanchi for my current audience. This is a very commercial film with lots of Drama, Joy, Sorrow and Entertainment. The way i used to make movies, I hope that i am able to satisfy my current audience. Because every Director has to match with the Current Audience because people will only respect you when you make a 'Blockbuster', Doesn't matter if you have given a great film. Great Films are not respected. A Hit film is always respected. Great Films are respected on a Life-Long basis, Especially when you pass away or when you are gone (Smiles).
But your Films are most respected Films even at this time..
I am Thankful to my audience that my films are till today seen on every Indian diaspora globally. It means my films can sustain that Value otherwise you cannot see a film more than 2 or 3 times. I will keep marching ahead and will never compromise with my quality.
How was Kaanchi as a Challenge to you?
Kaanchi is a big challenge for me because i have to maintain as my standard as Subhash Ghai. As well as i have to also maintain the standard of the 'So Called' commercial cinema. Kaanchi is a story about a suppressed rural girl who comes under Fire and takes a step to fight back with the biggest power of the country. And how she wins her battle with the support of the Youth is the rest of the film.
How come Kaanchi does not a have a regular Subhash Ghai's huge star-cast?
I have never depended on Stars. I depend on Script. It's the story that excites me. I have never calculated an actor's past Hit or a Flop film while casting him or her in my films. Taal was a woman oriented film if you look closely. Pardes was a woman oriented film too. I have never made films with Superstars.
But you made Vidhata, Karma with Dilip Kumar?
I made 3 films with Dilip Kumar when he was not a Superstar. He was playing his second innings that time. I made 'Hero' with a new boy and a new girl supported by two veterans which were Sanjeev Kumar and Shammi Kapoor. I made 'Saudagar' with a new boy and a new girl supported by two veterans Dilip Kumar and Raaj Kumar. I am now making 'Kaanchi' with a new boy and a new girl Mishti Mukherjee supported by two veterans which are Rishi Kapoor and Mithun Chakraborthy.
Do you challenge yourself by putting veterans like Dilip Kumar, Raaj Kumar, Sanjeev Kumar, Shammi Kapoor, Anil Kapoor, Salman Khan and others in your movie's Frame?
I like Pressures. I like challenges. I purposely take difficult steps and create problems for myself. Even Kaanchi is a difficult challenge for me that too when my last film Yuvraaj didn't do well. Today i would have made Kaanchi with anyone. I could have easily gone to Kareena Kapoor or Katrina Kaif with the script of Kaanchi and casted them. I wanted to make this film with a new girl and groom her my way. No one should say tomorrow that Kaanchi worked for 'That' star. A film always works because of the author, That's what i believe. Marketing people might not agree with my theory, But i do.
You can publish this article on your website as long as you provide a link back to this page.