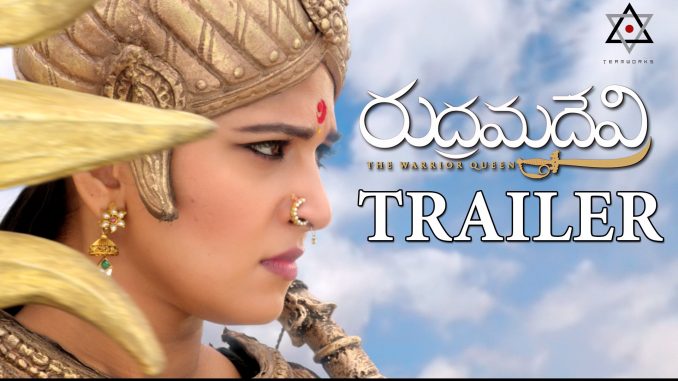 India will be introduced to the first 2D Plus film. Now audience will get the new feeling of being 'in the film' with the unique EDS technology. Anglo-American technology company Ying Group makes their debut in India with the first-of-its-kind cinematic experience and explain their relationship with the 3D film Rudramadevi: it is a '3D filmed in 3D' film, they explain

Ying's public relations exec Rosa Martinez says, "Our Ying scientists have shown us, that if you hold up two pencils in front of you, one 12 inches from your face, and the other 24 inches away, and you stare at one, you will think you are looking at three pencils. But if you look past them into the room, it'll appear as if you're holding four pencils." London-based inventor James Ashbey further adds, "These double images are with us all the time, but we have forgotten this, because we are so used to cinema, television and photographs made with one lens – with effectively one eye, when the outlines are all a single sharp edge. But this is not how human vision works; we need double images to tell us that we are looking into the real world. We need double images to tell the brain that the scene has depth. This is partially how EDS (Enhanced Depth Solutions) works. We recreate natural vision. When you put on 3D glasses like in Avatar or the new film that is coming Rudramadevi, you are not seeing reality, you are seeing a three dimensional painting which the director has painstakingly created for you. Enjoy it as you would a Rubens or a Rembrandt, or a Salvador Dali, it is a film spectacle. It is not a recreation of real life."

James, along with Miles Adams, Head of Technology at the Ying Group, has been working on a unique EDS – Enhanced Depth Solutions – technology which promises a 3D feel without the glasses. The duo and their team have used the Anglo-American technology on a special test for the film Rudhramadevi, a Telugu-Tamil-Malayalam trilingual, being produced by Guna Teamworks and is also being dubbed in Hindi. It is directed by Gunasekhar who won the National Award for Ramayanam, adjudged Best Children's Film in 1998.

Set in the 13th century,

Rudhramadevi

features Rana Daggubatti, Anushka Shetty, Allu Arjun, Prakash Raj and Baba Sehgal as members of the Kakatiya Dynasty. The film was initially shot entirely in full 3D. Two cameras recording every scene in stereo-vision. The Ying group wants to stress that the conversion work that it did was on the 2D trailer that Gunaworks created for Youtube and not on the 3D (stereoscopically filmed) film still in final post production. See the EDS version of the 2D trailer here with this article

Miles sighs as he recalls the action sequences in

King Kong

with really fast movements. "It was extremely difficult to convert them into a cognitive EDS illusion," he says. "We had to work on each frame from the two perspectives of left and right eye, and then create a combined hybrid, so that the viewer could enjoy the sequences without losing track of the action as things moved at speed. We had to create additional frames to make the film work in our conversion process. We are very pleased with the results of the extended

King Kong

sequence, which readers can view online with this article. Miles pauses and adds, we would like to set the record straight that

Rudhramadevi

is one of the most thoroughly filmed 3D films of recent years; Just like James Cameron's Avatar, it is not being converted into 3D in post-production from 2D -like many 3D films; all of the natural perspectives were captured on set by the two cameras -this is painstaking work, and audiences will feel the difference on the screen. We approach such attention to detail when we create new frames in order to realize added depth. So we were proud to be involved with the film. But we worked on a 2D trailer, and not on the major 3D film going into 3D cinemas.

In developing our technology, we not only write the code, but we also design and build our own hardware, this gives us an advantage. If the hardware doesn't quite do what we need, we build something that does. James combines digital design with cognitive psychology, so we have a lot of in-house know how. Miles had to develop some specific algorithms for effects like blurring the background, effective conversion from 2D and introduce the non-detectable illusion at the below visible level in every scene. "It was an intensive process which takes time," he says. But will EDS give the same feel as 3D? "The quality is the same but EDS does not have the sharp edges that you see in 3D or HD -volume and depth are rounded, not sharp edged. EDS has been called 3D lite, or 2D plus, we are not sure whether it will be as emphatic as full on with glasses 3D, so we will be in the audience when the first film is in the theatres, and we will know when they are cheering, because we will be there. But people can judge for themselves what it looks like here on the small screen of their computers right here. We think that EDS is more lifelike," informs James. And that it is going to be a stunning ride in the hands of directors like Peter Jackson, James Cameron, Steven Spielberg and one day perhaps Maestro Guna Sekhar himself.
Watch the demo here:
King Kong
Rudramadevi EDS
Rudramadevi Original
Disclaimer of copyright: the content presented in this article has been partially altered and the soundtrack omitted in part, and attenuated as part of the original copyright protection. All rights are retained by the original content owners, and these sequences are presented in a news environment in the description of the first new global cinematic and broadcasting technology in over 50 years, now being beta-tested in the India media market.