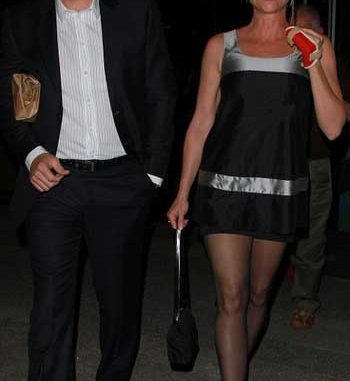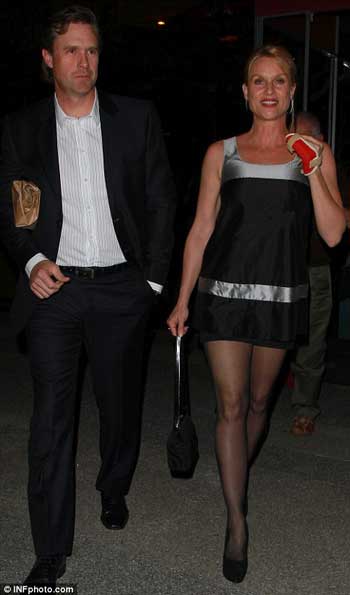 She has a bandage on her hand, my cousin Steve Pate has no marks
The
Daily Mail
is reporting Nicollette Sheridan got thrown from her horse. Again?
"Nicolette's boyfriend Steve, a wealthy financier. looked equally dashing in a black suit with an open neck white shirt."
"The trendy steak house appears to be a favourite of the couple – just two weeks ago the pair were also seen arriving for a spot of dinner." (Daily Mail)
She's been heavy dating my cousin Steve Pate for ages now that the horse accident story seems… well … a little old.
It's a better excuse than Tiger Woods came up with for his SUV accident.
My aunt from Texas assured everyone on the family mailing list that Steve has no scars or bruises on his face.
Maybe Nicollette did hurt her hand falling off the horse.
Edie Britt on Desperate Housewives, Nicolle's old role, was a man-eater not a man-beater.
We all breathed a sigh of relief that Steve wasn't taking it on the chin, if you know what I mean.
Those movie stars can be high strung fillies and Steve's just a good old boy from Texas.
Steve is used to gorgeous women in Texas, but he also knows you can't tell a Texas woman nothin'.
Steve CANNOT get Nicollette to wear a riding helmet. That might have saved her head but not her little finger, which is the item of faîte du bandage as they French say.
God blessed Texas with beautiful women and the pride to hold their own with Texas men, or any man for that matter.
http://www.youtube.com/watch?v=mbH60wCO-Yw
Little Texas tell it God Blessed Texas

Desperate Housewives assault
April 2010 Nicollette had her own story of assault. She filed a lawsuit against Desperate Housewives producer Marc Cherry and ABC.
In her $20 million claim, Nicollette claims she was assaulted, abused and wrongfully dismissed from the show. They had her electrocuted in a car accident to get even, in a episode but not in real life.
Everyone sent condolences to Nicollette by email.

More about Nicollette and Steve
My aunt in Texas got a little steamed at me writing about Steve like I did last year. I'm only supposed to cover what hits the press. Oh well, I get to pass on a few juicy stories.